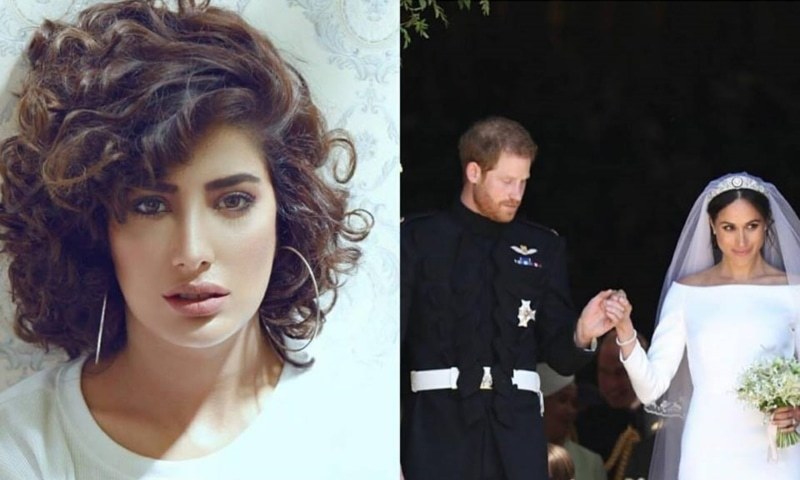 The Royal Wedding of Price Harry and Meghan Markle had the entire world hooked to it. Those who couldn't watch the wedding in person were hooked to their television sets watching the live transmission of the wedding. And where we were completely smitten by the way Harry looked at Meghan as soon as she walked down the aisle, it seems that we weren't the only ones cherishing that moment as even Mahira Khan and Mehwish Hayat were completely blown away by Harry's unconditional love for his new bride by the way isn't only older than him by 3 years but also a divorcee.
This particular Royal Wedding blew away the masses by ways it broke the challenging traditions of the British Royal family.
But coming back to the wedding which took place on Saturday at St George's Chapel in Windsor, we were glad to see our local celebrities too glued to their screens as Mehwish Hayat posted a shot of the duo where she praised Prince Harry by saying,
"Get you a guy that looks at you the way Prince Harry looks at Meghan"
And if that was not enough, Mehwish even thanked Meghan for showing women of color that anything is possible and congratulated the newly appointed Duke and Duchess of Sussex on their marriage.
Also Mahira Khan who has just returned from a superb trip from Cannes was in awe of Prince Harry's determination to marry Meghan as she wrote ,
"What a stand up guy. Married the woman he loved against all odds and had his father walk her down the aisle."
Read : Prince Charles appoints Rahat Fateh Ali Khan as new ambassador of charity!
With us totally loving that gesture too, lets see which other celebrities watched the wedding and were left in complete awe of it,
And if you thought that it was only the ladies who were excited for the wedding than hold on to your seats as even Ahmad Ali Butt made sure he watched the live transmission,
And if that's not enough, PIA also extended a invitation to the Royal Couple inviting them to visit the Northern Areas as Princess Diana had once done,