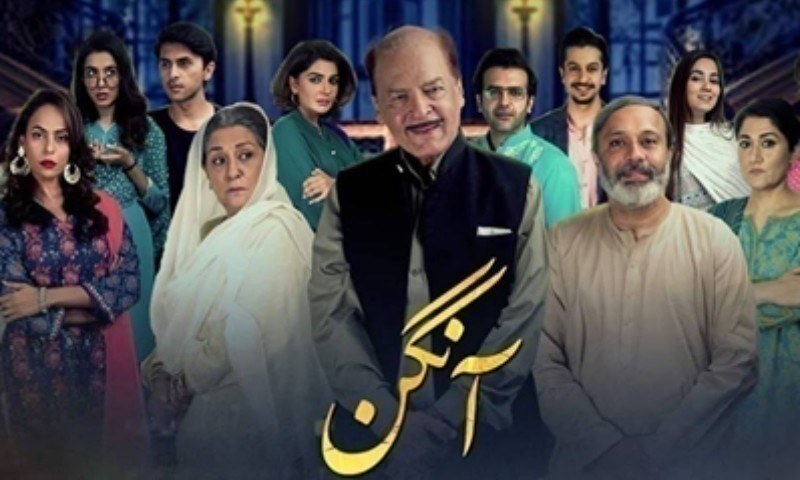 One of the most difficult task in our opinion is to pen down a drama based on a large family as you have to deal with so many characters and have to make sure that each is so interesting that the audiences end up falling in love with them. However, writer Faiza Ifthikhar has hit gold with Aangan which deals with Mian Jee's (Qavi Khan) sons and daughter in laws all living under one roof as one big family. The play is one of the finest piece of work we have seen from the acclaimed writer as the drama is a blend of humor, emotions and family bonding all rolled in to one.
Directed by Qasim Ali Mureed, this is his second play after Beinteha that has won our heart. The reason why we make sure that we follow Qasim's work is because each scene is well planned with nothing being dragged and his actors under his guidance end up giving a performance which is definitely worthy of praise.
So with the 32nd episode of Aangan having aired on Tuesday, let us recap a bit what all took place in case you missed it.
Read : Aangan In Review: There's a new twist in the plot!
Zoya (Mansha Pasha) is back and she is not the same girl as after marriage she has become the second Anila (Zainab Qayyoum) which has left all, including us, quite shocked. Now we know that Sadaan's (Arslan Faisal) marriage was unexpected but personally we feel that Zoya could have understood the situation and then reacted as we always thought of her as a sensible girl.
With Abba Jee aka Mian Jee surprised by Zoya's reaction and feeling that his daughter has vanished somewhere, Sajjad steps in and offers to go see Zoya and makes her see things in a different light which touched our heart because at the end of the day one should never mind what parents say as they are elder then us. So besides an interesting story line Aangan also teaches us a lot about family relations in a positive way.
On the other hand Asim (Hassan Ahmad) is still with Haseena (Yasra Rizvi ) but why he married her is still a mystery to us because the excuse that he gave is a little too difficult to digest as it doesn't really make any sense.
With Shafiq, the eldest of the sons coming from America which is quite odd as he is not fond of his family, we see Anila and Hajra (Irsa Ghazal) wanting their daughters to marry his son. However, with the promo suggesting that he is coming to claim his share in the property Aangan is about to enter a new phase and we cant wait to watch it. Sadly the drama depicts reality as this is what is happening in the society where children after having grown up are even willing to discard their parents and siblings all for the sake of money.
We love Qavi Khan as he switches from a serious mode to a light hearted one within seconds but more than that all the actors involved share such great on screen chemistry that you cant help but fall in love with every single one of them.
So still going strong Aangan will now be shown at 8 pm during Ramzan only on ARY Digital and we for one will definitely be tuning in next week as our day is not really complete without it.