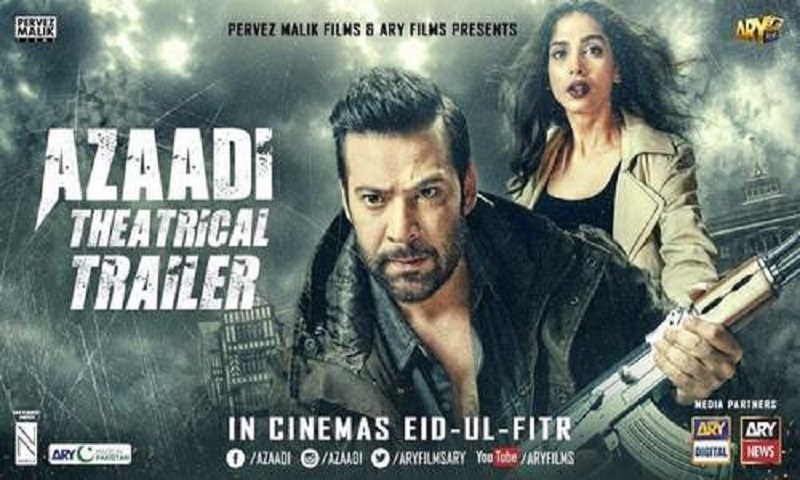 Hip talks to the Azaadi star about his upcoming film, industry dynamics and public adulation

Media junkets are a typically Pakistani thing. You are called in a rather sizeable group, all at the same time, with no coherent strategy of how the thing is going to work. Expecting a couple of hours of randomness, I waited along as one prominent film journalist interviewed the cast after another. I'd rather have less people in the room when I interview than push for an early one, I thought to myself. But there would be a downside to it. The cast would be bored out of their minds answering similar question. So, I tried working on making different questions. You could do only so much however, when the focus of the interview is a particular film. So, by the time I got a chance to interview Moammar Rana, I thought he would have ran out of new things to respond with.
Teaser in review: Azaadi looks intense and we love it
I could not have been more wrong. The man had so much energy, I experienced how it would be to interview Preity Zinta (the joke just wrote itself). So the most obvious question to start with, why did you choose Azaadi to make this comeback?
"When Irfan Sahib narrated the the script and my role in the film, I thought it would be very taxing. How does one think and then act like a mujahid. I sat down and thought to myself how can I do this? Made a sort of rough sketch of it and presented it to the director. He loved it. And that is how this extremely draining but satisfying journey began."
Lets' dissect this journey I requested.
"Well I started working out twice a day. I grew a beard for the 1st time in my life. Unlike my previous films I wasn't dancing around you know. Even in that song Mahiyave, I discussed with the director that this man shouldn't be dancing. It just didn't go with the type of person he is. But initially, I thought I was mentally and physically ready for the challenge but my director had some different plans. This was by far the most difficult film to shoot. We went to Shogran twice, Mansehra and Dadar. I saw a lot of Pakistan during the shot. It was a wonderful experience working with Imran Malik and his team.
For a film depicting a war zone, action sequences are pivotal. Did you enjoy doing them and what could we expect I asked him.
"Look man, I did all my action sequences myself, so no body doubles. Thanks to our D.O.P. Faisal Bukhari asking for multiple shots, I had bruises all over my body." out came a big laugh. "The gun you see me holding in the trailer, those are heavy machines. To go uphill and downhill as it rained heavily, took a massive toll on my body." Clearly it wasn't easy being Azaad.
So what kept you going, I wondered?
"As I said I started thinking like a mujahid. I did my research about the atrocities being committed in occupied Kashmir. It got me motivated to work even harder. Look, obviously I am not fighting a real war but I wanted to raise a voice for our brothers sacrificing their lives there. I owed all this effort to them."
Next stop, the love angle. Sonya Hussyn was his costar, coming from an entirely different type of work experience. How did she adapt to the ways of Lollywood.
"Initially it took a few days for her to really be a part of the whole process", he spoke like a true veteran.
"So, we sat down with my family, had some good laugh and slowly she became a lot more comfortable in the setting. She has all the talents to be a heroine. Similarly, my fellow Mujahids, you will see in the film; we also had a great time in the film. They also had this sort of hesitance. You know people have different perceptions about you. I told them, I am Momi bhai off screen and Azaad bhai on screen. We helped each other out in every way possible. You will hopefully see the result in the film."
So, how does one stop being a mujahid, you trained your mind to think like one. Where does the anger go?
"Initially, it was showing. My family started noticing it. So, when I finished the film, I took my kids and my wife to Bangkok. For 15 days I was basically offline. My mind and body rested. And now I am back refreshed in front of you."
The most interesting bit of the interview for me was when he started talking about being a hero.
"Being a cricketer or a hero is quite similar. In Pakistan we have 95% masses and 5% perhaps you know elite. I work try to work for both but the majority that roars at your entry of a film or when you hit a six are the masses. I want to be a hero for the masses. It's something that has been missing from Pakistani cinema for some time and we have tried to give the masses a hero. I have put my heart and soul in the project. Now it's up to the public."
That is the sense I got from Mr Imran Malik, director of Azaadi. Perhaps, in the last year or so the films we have seen are too subtle to attract audiences. The film's team was candid enough to say that they were targeting mass audience including semi urban Punjab. If this strategy helps in revival of cinema culture, it would serve our industry well.
After quite a insightful conversation, I ended the interview with a typical question i.e. future plans.
"I have signed two film, which are yet untitled. I will be directing my own film soon. So thing are looking good."
If Moammar Rana's energy was the indicator, Azaadi would be a super hit. The man is pleased with his own efforts and content with the final product.