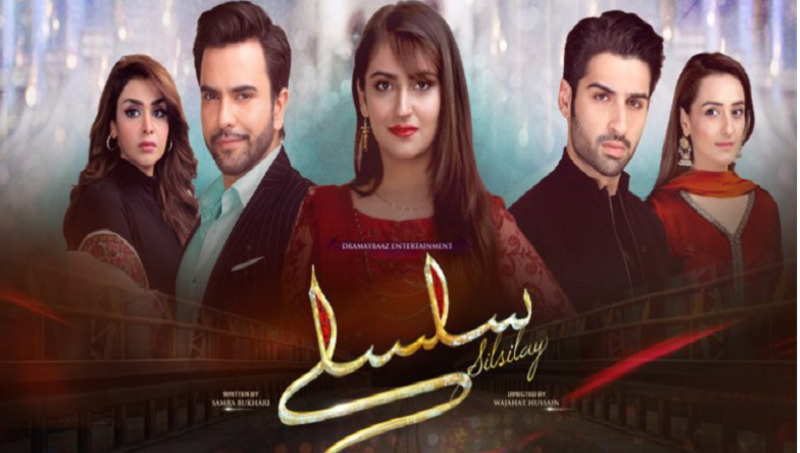 One play which we keep on coming back to every week without any hesitation is the multi starrer Silsilay which even after 21 episodes is still as engaging as the first episodes. The characters have now come at such a difficult stage in their lives that one cant help but feel sad for everyone of them except for Ujala (Sara Bhatti) of course whose prime focus is to make sure that the family which was once united can no longer bear the sight of one another.
Written by Samra Bukhari, human emotions are one of her strong points and she writes them with such ease and conviction that out of all the dramas that we have seen we have seen, this is one quality makes Samra Bukhari stand out compared to the rest of the writers.
So what happened in the latest episode of Silsilay last night? Well read along to find out in case you missed it.
Read : In Review: 20 episodes down Silsilay is now an entangled emotional web
Shahzaib (Muneeb Butt) is quite upset with the fact that Abiha (Momal Sheikh) is not giving him any importance as when he had gone to pick her up she chose to sit with her boss instead of him and that really tore him apart because he is feeling very jealous. However, that emotion is quite alien to him right now as he has always thought of Abiha as a very good friend but now there is an emotional turmoil going on within him which we hope he understands soon as they both make a lovely couple in our eyes.
On the other hand Jawad's (Junaid Khan) mother (Seemi Raheal) is seeing the way Ujala is treating Abiha and Tanzila (Shagufta Ejaz) and does not like that one bit. But with her having no choice as well as wanting Jawad to see her real side she advices her sister and niece to move out for a bit so the reality of Ujala is finally exposed.
With Abiha's boss who is a friend of Ujala and involved in the plan to destroy Abiha he offers his apartment to them to stay which Abiha takes but with him not giving such strong vibes to Tanzila we have a feeling that their stay in the apartment will be short lived.
But what is happening with Hira (Hiba Bukhari) who is still at her fathers?Well the truth is that she is about to get in to a very big problem with the bad man Malik Sahab who has taken a fancy to Hira and knowing how selfish her father is, life is about to become tough on her.
So what will happen next with Hira, Abiha, Shahzaib and Jawad is what we cant wait to see in the coming episodes of Silsilay which has been directed very well by Syed Wajahat Hussain.
With great acting by all and a story which keeps one engrossed don't forget to watch the drama every Tuesday night at 8 pm only on Geo TV, especially if like us, you too are a fan of stories based on family and love.