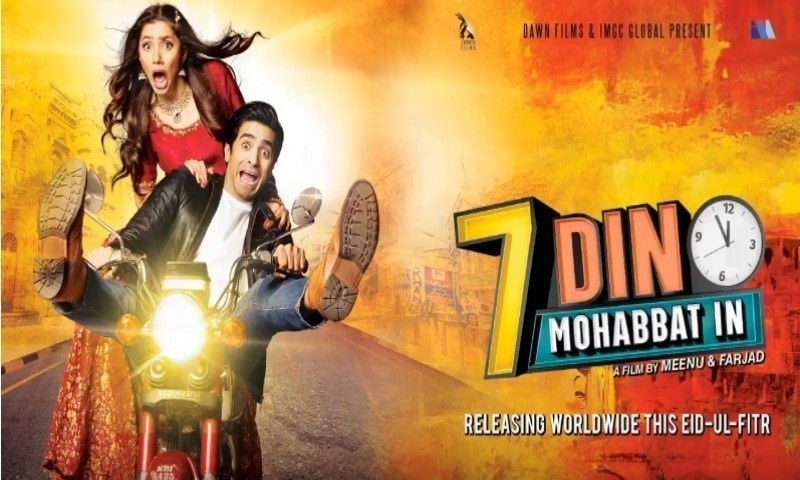 I would imagine, investing (monetarily and otherwise) in a Pakistani film would be a rather risky business decision. We have been talking about the film industry's revival for 10 years, but it hasn't really revived economically. We work on ad-hoc decisions and Eid remains a way to ensure some recovery. As one director put it 'izat bachana' by releasing films on Eid. Or the board of censorship can simply ban your film, days before release i.e. Verna. It takes a brave and a person with immense self-belief to step into this market.
But for a film like 7 Din Mohabbat In (7DMI), it would take a lot more than courage and self belief. It's a fairy tale, its a different universe. Pakistanis aren't used to seeing fairy tales as such. Our films have been comedy or telling us reassuring patriotic half-truths. But Meenu and Farjad, set out to make this new cosmos, a magical one at that. It's very safe to say that 7DMI has utilized CGI and sound design better than any other Pakistani film. The film is pleasing on the eye and soothing for our ears. The dialogue writers have used very relatable puns and overall screenplay could be given an A. There is some lazy comedy and the flow of the story is not quite seamless, nevertheless but it comes with this genre. Just watch Farah Khan films.
Yuhi Rastay Mai from 7 Din Mohabbat In is the romantic ballad of the season!
The film starts and we see our hero, Tipu (Shehreyar Munawar) struggling in his life. He is 29 but he hasn't had much (any) luck with the ladies. He lives with his mother (Hina Dilpazeer), who is snarky and often manipulative and her cousin Neeli (Mahira Khan), who is naïve and a hopeless romantic. Affection is brewing between the two cousins but for the overbearing and controlling mother/khala. She has Neeli engaged to the local ghunda Kankatta as his 3rd wife, for her own gains. Our, gullible Tipu distances himself from Neeli as he is afraid of Kankatta bhai. One evening as he struggles through burdens of daily life, a Baba grants him, this bottle (Aladdin like).
Dwarka Prasad from Delhi (Javed Sheikh) comes out of the bottle to start a run against time scenario. Tipu, has 7 days to find true love to become a real man or he will forever be doomed to be a slave of Dwarka. Sheikh Sahab lends the required power and fun to the role. He is an honest but an evil soul, who actively tries to sabotage Tipu's moves. In his quest Tipu, goes out with women rights activists Ghazala (Aamina Illyas). She is a badass, fearless woman and but she falls for Tipu's honesty. There is Princess Sonu (Mira Sethi), a British-born-confused-desi. Another character, where there was potential to go wrong. But she doesn't overdo it. Her accent has been shown as a character trait rather than being used as a constant idiosyncrasy to be made fun of. Both characters, have tenderness to a degree. Will Dwarka succeed in enslaving Tipu? Will he break the shackles and find the love of his life. Will the charya turn to challbaz? I am not going to tell you that am I?
What I can tell you is that the set design of film is outstanding. It matches up to any Bollywood or Hollywood film set. Sound, also adds so much to the overall feel of the film. Dialogues are witty, often we see clever use of shaire (Neeli, is that girl you know). She is bubbly, reads Urdu digest, watches morning shows but is not meek. She believes in true love but doesn't look at it as a weakness. In a very different role Mahira Khan proves that she is a versatile actress. Shehreyar Munawar, sheds the hero image properly. It's not just the geeky glasses and hair style but his posture, body language, crooked finger, tone, everything matches. He is lonely but not a pervert. He is not desperate but not a stalker. However, the duo of Javed Sheikh and Hina Dilpazeer, simply standout. I wish we could see more of the two in another film. Sheikh, brought his obvious charisma to this rather unlikable character. While, Hina Dilpazeer is stern and opportunistic. There is a lovely moment b/w the two veterans, look out for that.
What I will perhaps remember for a long time is small nuggets like the Ghazala using her anti men bomb called Niswani jhatka, or the dialogue 'Larkyion ke jaan Fawad Khan'. In a scene, where Tipu stands up to wadera ka betay (or perhaps wadera) to save Rimal Ali, the background club is named Madhuri house. As she compliments Tipu, fireworks set off in the background. Such small things, show how invested the film makers were with these characters. It was also ironic to see a boy say 'Mai aisa waisa larka nahe hon'.
Kudos to all involved in taking this rather risky project. There were so many pitfalls, some many areas where they could have gone wrong. But they overcame them one after another. Hopefully, it will be a milestone in Pakistani cinema. This is a fairy tale, you ought to see this Eid.