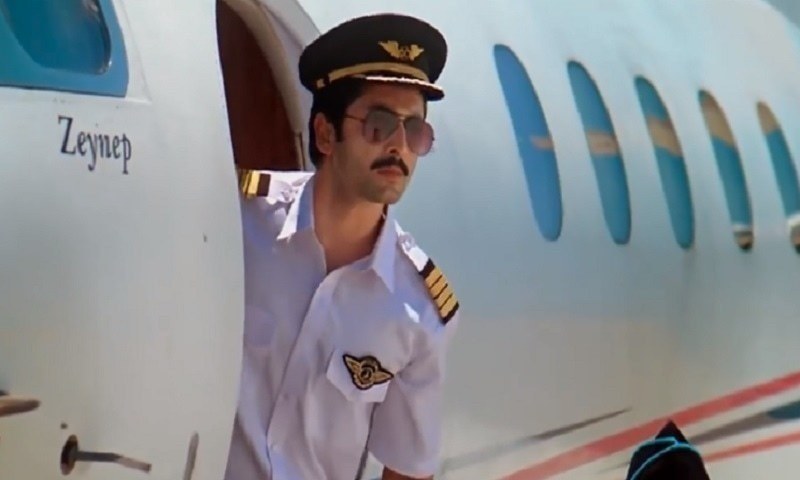 Javed Sheikh is perhaps one of the best actors in Pakistan. Wajood is his directorial comeback. He has clearly worked hard on trying to 'look the part' for the role of detective Rock. There was an intrigue about his character in the film, pre-release. However, by the time he actually makes an entry, you are so marred by the inconsistency of the film that your excitement has died. Plus we only get a cameo appearance of 15-20 minutes. Even in those 20 minutes, while JS completely sells you his character, you don't see him do a hell lot (except lighting a cigarette in every shot he is in).
That is the problem with Wajood. When the base idea is one-dimensional, it takes an expert director to build characters and an engaging storyline. We saw that recently with Adnan Sarwar's Motorcycle Girl. On the face of it, that was a simple linear story. But it was Adnan Sarwar's idea to make it basically (spoiler alert) a daughter father story and parallel storylines, which made the film a lot more than just a simple biopic. The makers of Wajood fail to paper over the lack of depth in story with characterization and story building. The trick up the director's sleeve is kept hidden for so very long that when it comes, it loses its impact.
Faizan (Danish Taimoor) is a pilot working for a private company. He returns home like a good, well-bred boy, to see his family and of course get married. Here he meets, Arzoo (Saeeda Imitiaz), who is the sister of Q (Ali Saleem). Yes, Q is 'Camp'. There are mini roles for Nadeem Baig sahab, Shahid sahab and Frieha Altaf, not much to write home about. Nevertheless, in a laborious routine Faizan dances with, stalks, and wins the heart of our heroine. All is set as his Wajood gets to be with his rooh (their words). But life takes a turn when he gets a job offer from JF group. In the 2nd half of the film, we get to meet Jessica (Aditi Singh) and Rock (Javed Sheikh). Eventually, it leads to Faizan going to the Turkish jail. Why and how will reveal the plot of the film, so I will not provide any spoilers. You do wonder, till the very end, why is Faizan behaving the way he is and at the end, we do get the answer. But it raises more questions than answers. You will come out of the cinema saying why now, why this way, why didn't she/he etc.
"Wajood is a step for me towards going global," Hip Exclusive with Aditi Singh
The look of the film is splendid. The locations used, outdoor or indoor are beautiful and lavish. Its cinematographers, Kelvin Keehoe and Asif Khan have done a wonderful job. A bit like Arth 2, the fade out tool has been used very many times for editing. Dialogues are either run of the mill, or like the ones you heard in the trailer, in 'salees Urdu'; unnecessary and inconsistent with the overall behavior of the characters. Music, usually strong point of JS's films isn't memorable here either.
As for the actors, Danish Taimoor at least in the 1st half tries very hard to convince and engage the audience (and perhaps himself too), but clearly struggles with the lack of depth to his character. However, he has built up abs muscles and those are on display. Saeeda Imitiaz, has a difficult job at her hand as well. The story asks her to switch from hate and anger to remorse and love a couple of times. It's a hard sell and she perhaps wasn't prepared to pull of something like it. Aditi Singh, our Tollywood import, perhaps has the most context to work with her character, Jessica. She acts half decently, but that seductive song, doesn't serve the purpose. Once again, the lack of coherent script makes it difficult for her. The only saving grace is definitely Javed Sheikh sahab. His presence on screen, energies the audience a wee bit.
Unlike a lot of Pakistani films, it is not very long. Perhaps, with the paper thin script, it could have been even shorter. While, heart of JS is at the right place, the script that he choose clearly tied his arms. It's a beautifully shot film, but there isn't much else to discuss. I am huge fan of Sheikh sahab. And as a fan I say, direction, and script selection was off this time, sir!