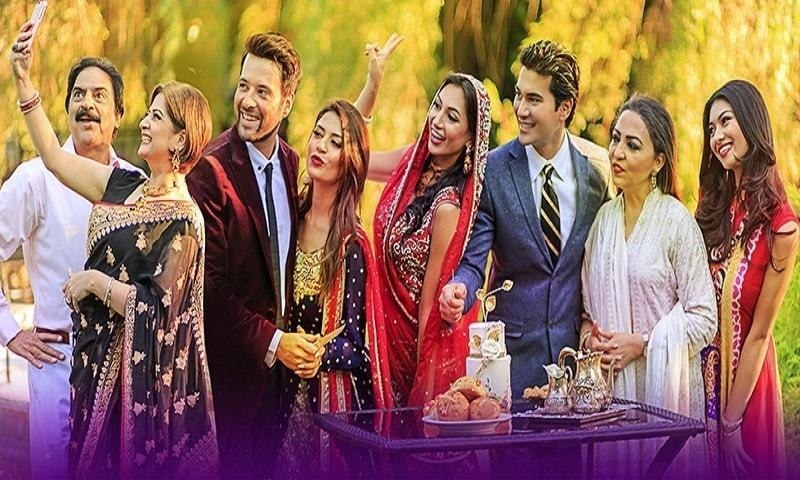 I like to think of myself as a kindhearted person. If I were a math teachers (won't happen ever) I would definitely offer 'steps k marks' in plenty. I do understand that it requires a gigantic effort to make and release a film in Pakistan. So, I try my hardest to find good things about the film. Identify areas which some may find pleasing (even if I don't myself). While, I am mention the things I don't enjoy, I try to present the other side of the picture as well. It was an uphill struggle for me to do so with Na Band na Baraati.
Zahid (Shayan Khan) is a brat, who likes to takes his shirt off and is in love with Ayesha (Anzhelika Rublevska Tahir). Shahid (Mikaal Zulfiqar) is elder brother of Zahid and is metaphorically carrying Zahid's dead weight. I suppose, the character was designed keeping in view how much work MZ will have to do opposite Shayan Khan. Elder brother is always lending Zahid money, saving him from their parents and eventually tries to assist him in getting married with Ayesha, w/o informing either family. This is where all hell breaks loose as their family finds out. Shahid is caught up in the melee and his own relationship with Zoya (Nayab Khan) is in danger. There is Ali Kazmi, as the mechanic. He also loves Ayesha and wants to put a stop to this whole wedding. How they get out of this mess? Head to the cinema to find out.
In Review: 7 Din Mohabbat In, a fairytale you ought to experience
Usually, even in poor films, you see what the film maker is trying to achieve. I was left bemused as to what the film makers wanted to achieve. Not by the film, but by their social media promotional strategy, I got the feeling the purpose was to launch Shayan Khan. Thanks nepotism. We were told that a new star has arrived in Shayan Khan. At the current level, it is hard for me to see how this profession suits him. If the production house was hell-bent on launching him, a much better approach would have been to go the Tiger Shroff way. Build a killer body, become an excellent dancer and hide behind action directors to gather audience's applause. It's a formula which has worked so well for TS. Shayan Khan, has hit the gym but this movie requires a lot more. His dancing skills leave a lot to be desired, and with a script which needed a masterful performance to make it convincing, he is flat.
Also, the two leading ladies, Anzhelika Rublevska Tahir and Nayab Khan are definitely not cut for their roles. They look lovely but their roles demanded so much more. The dialogue delivery is so off, you feel like its an elementary school play. Just go with English, if the cast is not comfortable with Urdu. Even typical catchy Punjabi song has been shot very badly.
Qavi Khan, plays the eccentric dad. The veteran, Mikaal Zulfiqar and Ali Kazmi try their hardest to make sense of this situational comedy. Ali Kazmi, plays a majnu, who keeps repeating the same monologue at least 4-5 times. It gets tedious fast. Qavi Khan, also gets to repeat the same behavior again and again. While, Mikaal, puts in an earnest effort to make us laugh but there is simply not enough in the script for him to work with. Why the trio signed this film, I wonder.
Bollywood has produced many such comedies. But the characters in those films are way more developed, the lines funnier and acting superlative. Suspension of disbelief for a film is one thing, but to expect the audience to pay a decent amount of money to see the actors sleep walk through the film even when they are dancing is beyond comprehension.
This one, was really an uphill struggle!
Note: All reviews published at HIP are at the author's discretion. The publication holds no responsibility for the views expressed.