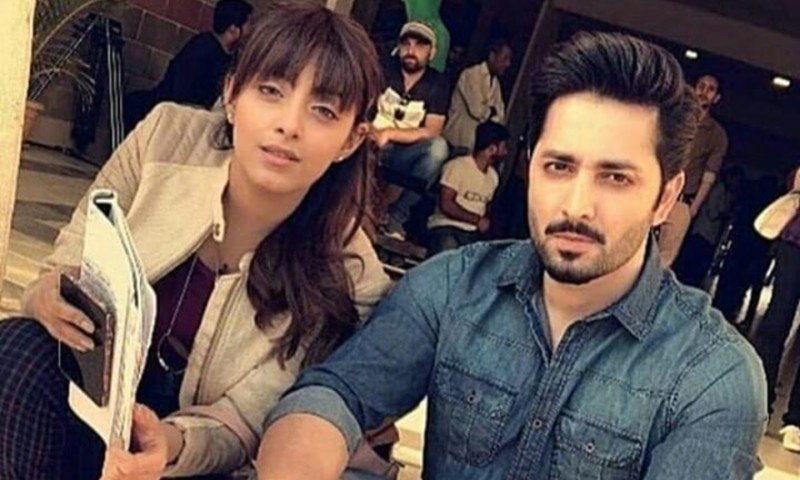 Acting from the heart, Sanam impressed in the first episode along with Danish Taimoor, Ali Abbas and Ushna Shah
Its good to see channels churning out one play after another as we simply love watching our local dramas. With the passage of time many producers are also experimenting with dramas and content and therefore we have some high quality plays to see. And so, the latest drama to join the race is the Danish Taimoor - Ushna Shah starrer Ru Baru Ishq Tha which has replaced Aik Thi Rania after the serial came to a end.
But has the drama lived up to our expectation? Well read along to find out.
Written by Amber Azhar, her story shows two different set of families where one is headed by a very liberal and loving Javed Sheikh and the other is controlled by a narrow minded Ayub Khoso. With the story looking interesting we hope that the coming episodes are intense as by having seen the teasers it should be a play which will keep us on the edge of our seats as it unveils itself.
Directed by Furqan Khan, we like how he has composed each scene and the first episode was actually planned well as we got to meet all the characters involved as well as see their different personalities. So what exactly is the story so far?
Read : Danish Taimoor sets screen on fire with Ru Baru Tha Ishq teasers
Ru Baru Tha Ishq revolves around Salwa (Ushna Shah) who loves to study but lives in a house where her dad (Ayub Khoso) hates that she talks to her friends on the phone or does anything without his consent. Almeer (Danish Taimoor) is the cool dude of the college who is best friends with Ayaan played brilliantly by Sanam Chauhdry. Now where we think Ayaan likes him, he on the other hand thinks of her as a friend since she is a complete tomboy and always full of energy.
Now Ayaan has a brother called Wahaj (Ali Abbas) who is a strict police officer but in front of Ayaan he melts and treats her like a baby which is why she is so spoilt. With Almeer's family shifting to America and him not getting a visa, the family thinks of getting him married off so they don't have to worry about him and it is then that he mentions how he likes a girl and wants to marry her!
Now on the other hand we see Salwa talking to a guy who wants to marry her but we so far have not seen them together and with Almeer recently saying how he liked a girl we look forward to seeing next week's episode where the teaser suggested that these two are romantically involved and Ayaan who is friends with both is quite clueless about their budding romance which makes us feel a bit sad for her.
So an interesting start to the play, Ushna Shah plays a very timid girl very nicely but it is Sanam Chauhdry who stole the show in our eyes as she was completely into Ayaan and her on screen chemistry with Danish Taimoor was also a highlight last night.
So what does the future hold for Ayaan, Almeer and Salwa? As well as why didn't Almeer get the visa for America is what we look forward to finding out next Friday night at 8 pm only on Geo TV.
---
All reviews published on the website are subject to the author's discretion.