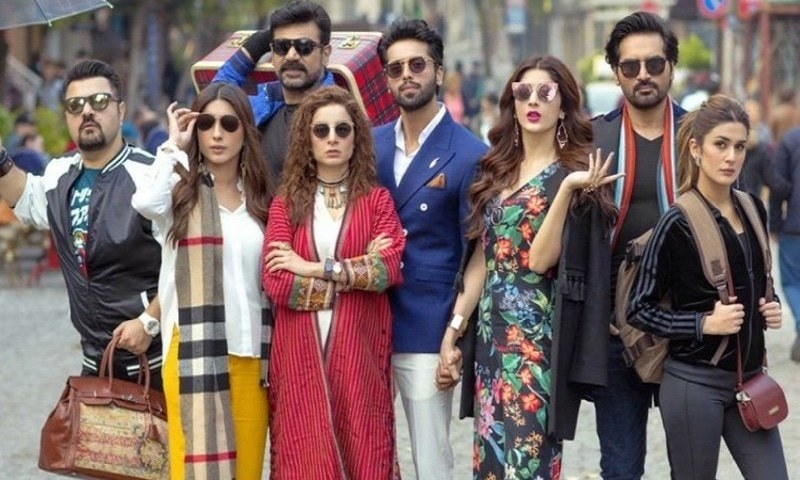 And so the trailer of the much awaited film Jawani Phir Nahi Ani 2 was finally dropped and guess what, amongst all stars from the prequel, its Fahad Mustafa, the latest addition to the cast, who owns it. Fahad Mustafa does not only looks the part, he nails his character too. Investment banker, super suave, sophisticated, funny where needed and with a lot of margin to perform, Mustafa stands as the highlight of the JPNA 2 trailer. In fact Fahad Mustafa is perhaps one of the finest actors Pakistan has produced. Period!
Of course Humayun Saeed, the man, brings forward his usual charisma to Sherry, but we feel he couldn't entirely let go of Fawad Khagga in Jawani Phir Nahi Ani 2 as well. Also, there was something amiss in the coherence of the trailer, like a number of scenes strewn together. Nevertheless the trailer does promise a full on masala film with entertainment, dance, romance and of course some action as well. The girls looks super chic, Mawra Hocane as Xoe, absolutely gorgeous, Kubra Khan very attractive and Sarwat Gillani, bringing across her usual charm.
The music deserves a special mention because we found it to be amazing. The title track, a collab between Arif Lohar and Ahmad Ali Butt, sounds fantastic even though we've only heard Arif Lohar's part of the entire track.
Ahmad Ali Butt, Arif Lohar collaborate for JPNA 2 title track!
And so, we wait, more eager than ever, for the release of the film. Jawani Phir Nahi 2, directed by Nadeem Baig, hits cinemas this Eid ul Azha and so, there's not much time left for you to enjoy the madness too.
---
Reviews published on HIP are done so at the discretion of the author