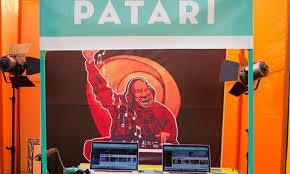 A leaked screenshot of Patari team shows Ali requested to move Faris' track to the extreme bottom of the list

The music hosting app Patari has recently been in the news – but for all the wrong reasons apparently. This time the app has made rounds in the media for being in a controversy relating to Ali Zafar and Meesha Shafi fiasco.
Meesha Shafi alleges Ali Zafar of sexual harassment!
According to a leading daily, evidence has emerged that Ali Zafar and Patari teamed up to demote a recent sound track of Meesha Shafi's brother Farish Shafi featuring Ali Sethi.
In a leaked screenshot pertaining to the conversation of internal team at Patari, the message to move Faris Shafi's track to the extreme bottom of the list – on Ali's request per say – can be seen. As per reports, the request was fulfilled by the music app.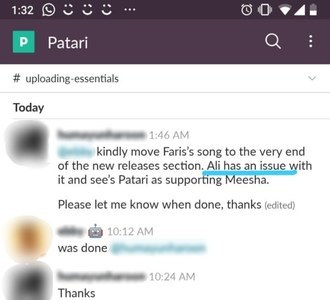 Faris Shafi and Ali Sethi issued a joint statement on the matter; they said, "We are dismayed by this blatant manipulation of a national musical platform. It forces us to reconsider working with Patari in the future."
Meanwhile Ali Zafar and his team have not commented so far.
Earlier this year both Ali Zafar and Khalid Bajwa (Co-founder and CEO Patari) were accused of sexual harrasment. Now after the recent incident, masses are looking at this demotion of Faris Shafi's song as 'one harrasser aiding the other'.
Patari has opened up and it does not look good!
A few days earlier, 6 members of Patari core team resigned on the back of Khalid Bajwa's involvement in the company's affairs despite the ongoing investigation against him for sexual harassment. At that point social media gurus also alleged that Parari is promoting Ali Zafar starrer Teefa In Trouble songs a little too much; controversy has stirred up once again and #DeletePatari is circulating on social media more strongly..
Some of them took to Twitter and said
Rabeel Waraich – investor and acting CEO Patari – commented on the matter and called the screenshot leak "unethical". In a statement, he said, "Certain screenshots from a confidential internal Patari discussion were leaked with an intention to portray Patari as unfairly targeting one artist at the behest of another. The leak was not only unethical but also a serious criminal breach."
"Since the beginning, Patari has prided itself on not letting any individual incident affect its editorial policies. However, it's worth pointing out that there isn't really a strict policy in place and matters are typically dealt with on a case-to-case basis," he further added.
Will Patari be able to bounce back after combating this series of controversies? We are waiting to see.