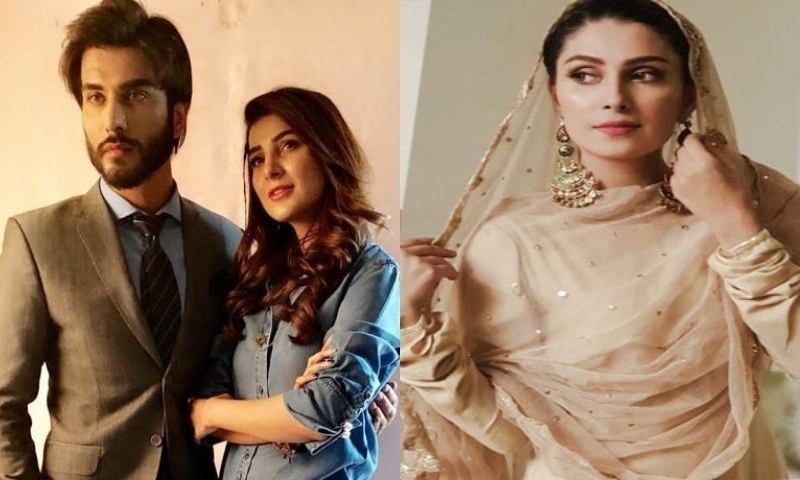 Time will tell if the drama delivers as per its first impression or becomes another cliched love triangle

The teaser for Koi Chand Rakh Meri Sham Per starring Ayeza Khan and Imran Abbas is out and from the looks of it we are thinking, do we have one more television serial to get hooked up to? Or not?
Directed by seasoned director Sirajul Haq, Koi Chand Rakh is Maha Malik's script. The drama is a project of iDream Productions and will be soon seen on ARY Digital. In addition to the charming Ayeza Khan and Imran Abbas – who have already won our hearts – the cast of the drama includes model Areeba Habib who is making her debut in this drama; Muneeb Butt and Asma Abbas will also be seen in supporting roles.
The first teaser has Ayeza Khan totally dolled up in bridal attire and in all honesty, we can't take eyes of her. Imran Abbas makes the entry with his charming personality and deep eyes which show his intense character in the drama. In succeeding scenes, we have a glimpse of Areeba Habib, Muneeb Butt and others member of the cast. The story seems to revolve around Ayeza's sorrows which are in her life because of Imran.
The second teaser has a more joyful look of Ayeza's personality where it's also revealed that she will be playing a doctor in the drama serial. A happy contended Imran is also seen roaming around with Areeba with whom he seems deeply in love with. So then how Ayeza ends up as his bride? Well, only the drama can tell.
The last teaser is quite emotional – and for all lovebirds out there it might be relatable too. While Areeba and Imran have promised to love each other for eternity, it seems like life took unpredictable turns and somehow they have to part ways. Now what does the future hold for Ayeza, Imran and Areeba is quite possibly a life of sorrow, misery and unhappiness that God knows will end or not.
Although from the first look of the drama it seems pretty well directed and all the actors are looking wonderful in their characters – however only time will tell if the drama will be able to deliver as per its first impression or become another love triangle with a home-breaker mentality vamp, an unbelievably blind in love hero and a sacrificial goat heroine.
We are keeping this drama in our list of to-watch serials, we suggest you do the same to find out how Koi Chand Rakh Meri Sham Per proceeds after its intense teasers.
Imran Abbas, Ayeza Khan and Muneeb Butt to star in iDream Entertainment's next for ARY Digital