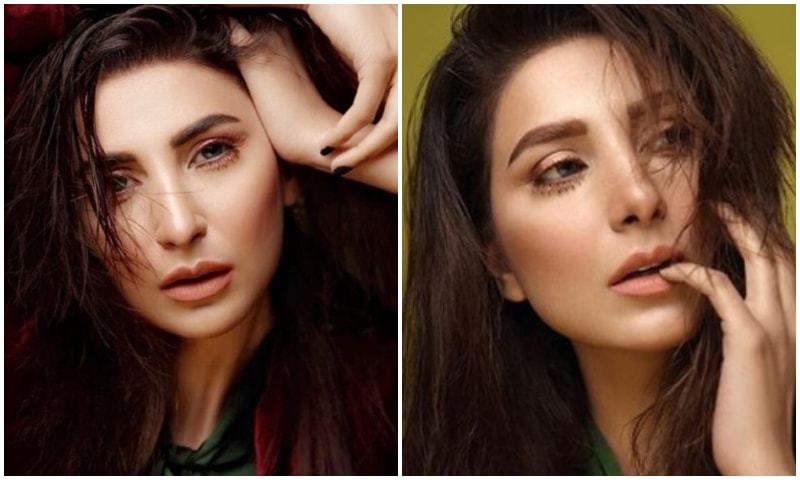 It was a little time ago that model Areeba Habib started her career. Areeba, today is an accomplished models, one of the top in Pakistan and has to her name, a number of big brands and endorsements. However, that's not it. Not limiting her options, Areeba has now branched out into acting and as a debut, this gorgeous girl gets to star opposite the very handsome Imran Abbas, in an iDreams Entertainment project for ARY Digital, Koi Chand Rakh Meri Shaam Par. Talk about getting lucky!
Areeba Habib Apologizes To Zara Noor Abbas In An Open Message
And now, with the teasers of the drama having gone on air and loved by the audience, Areeba Habib is all the more excited and nervous about her switch to acting and is anticipating her debut drama with enthusiasm. But before you get to see her on your television screens, here's a heart to heart conversation for Habib, where she accepts her fears, talks about her challenges and what she aims to do next in her life.
HIP: Define Areeba in one word.
Areeba Habib: If I had to describe myself in one word, I'd say passionate, I am so passionate about my work, whether its acting, modeling, designing, I do what I want to do!
HIP: How excited are you for this transition from modeling to acting?
Areeba Habib: I'm super excited and nervous because the drama hasn't gone on air yet. I feel this is a big change because people have begun to know me, they tell me they saw me on TV n all and its exciting in a good way, so I'm really looking forward to this.
HIP: How do you feel about your debut in Koi Chaand Rakh Meri Shaam Par?
Areeba Habib: Its been an amazing experience. Imran Abbas plays my hero, Ayeza is my elder sister, Muneeb my younger brother. I had a lot of fun shooting, my team was very fun and super amazing. I am very happy to have had the best team to make a debut with.
HIP: How was your acting experience with Ayeza Khan and Imran Abbas?
Areeba Habib: My experience was amazing, especially with Ayeza and Imran. They both are veterans and I am new but both of them were so supportive and so patient. They explained situations to me and I want to thank these people because they helped me out so much. Also my director Siraj ul Haq, it was because of him that I signed the play and the credit of my acting goes out to him.
HIP: Does it mean bye bye to modeling?
Areeba Habib: No bye to modelling at all. Modeling is my everything, the charm, the fun, there's nothing that compares to modeling and I'm never saying bye to it. Modeling will always be my first preference and since I can handle both, I'll keep modeling and acting as long as I can.
HIP: What is your role in Koi Chand Rakh Meri Shaam Par?
Areeba Habib: My character is one angle of a love triangle. Imran is my love interest and we do get married. The role displays me as what I am not and this has been very tough for me. I have worked very hard for this because the character is very different from my personality and I think people who know me and otherwise will love me this way as an actor.
HIP: Why did you choose this project?
Areeba Habib: I had a number of projects lined up but I didn't like one thing or the other about the projects that came my way. This project I said yes to because this character very different to my personality. I was reminded of a meet up with Moin Akhter when I was very young. Moin Sahab, when I questioned him about how serious he was in real life. told me when you do something that you are not, it becomes challenging for you and it brings out the best in you and that's what he did. And now I believe this role will certainly bring out the best of me for the audience since it has been a challenge altogether.
HIP: What can everyone look forward to in your new drama?
Areeba Habib: My acting, I really need feedback from people on this character. This drama has a lot of very different aspects and it will certainly click with the audience, that's what I feel.
HIP: Last but not the least, what would be your ideal role to play on TV?
Areeba Habib: There is not an ideal role I have on TV. For me, any character which depicts the different side of you, I will be eager to explore. For me, acting is something I want to experience from all aspects and that's what I will be looking forward to with my debut. Whether its a daughter, a daughter in law, a damsel in distress, a woman bandit, a woman with passion, a mother, a sister, I am game for any and each role.
The teasers of Koi Chand Rakh Meri Shaam Par have turned out to be rather impressive and we're eagerly waiting for this drama to go on air. Areeba Habib has always won our hearts with her striking features and her graceful poise, and we're wondering if she'll bring across the same in her upcoming drama. Here's wishing the girl all the very best from HIP.