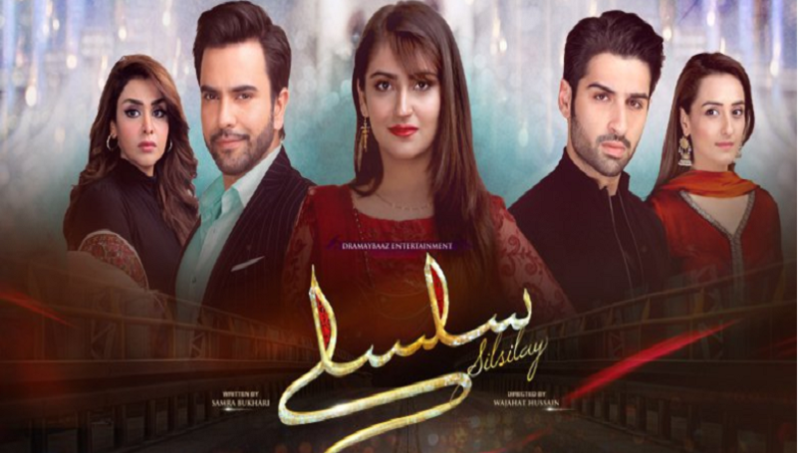 'Silsilay' is fast paced with never a dull moment which makes it an interesting watch even after 25 episodes
There are very few plays on air this time who have managed to keep us engrossed in their story from the very first episode. The drama which we are talking about today is Silsilay which has a multi star cast where everyone has contributed towards making it a pleasure to watch. Be it love, heartbreak, a son marrying a wrong girl or a father getting his daughter married for money, Silsilay week after week leaves you anticipating the next episode.
Written by Samra Bukhari, her stories are heart felt and dialogues so realistic that as the audience one is able to form an emotional connection immediately. And last night's episode made us quite emotional as the once bubbly and feisty Hira (Hiba Bukhari) is now stuck in a situation where she cant seem to find any escape!
Now what is it? Well read along to find out.
Read : Silsilay Episode 23 In Review: Trouble In Paradise for Jawad and Ujala?
Now we all know that Hira has always dreamt her father to be this very noble man but the reality has been something very different. The poor girl now aware of everything has been trying to get in touch with her mother (Shagufta Ejaz) but discovers that she and Abiha (Momal Sheikh) have left her Khala's (Simi Raheal) house and now she has no clue on how to find them.
With Hira bound to marry the old Malik Sahab who has paid 5 lacs for her, she is distressed and it is her step mother who is seen trying to protect her. For a change it is also nice to see the other mother as someone very sweet instead of a devil which is usually portrayed in plays.
Now on the other hand, Jawad (Junaid Khan) is seen to be double minded about Ujala (Sara Bhatti) especially after she refuses to accept the clothes his mother got as they were not up to her standard. With her father giving Jawad a credit card to buy whatever his daughter pleases we were so glad to see Jawad stand up for himself and the family by refusing his help and telling Ujala that if she could not adjust with him then she should think things through.
So quite an interesting episode, we cant wait to see what Ujala will do now as things seem to be slipping from her hands. But more than Ujala it is Hira who has us worried as the poor girl seems trapped very badly.
If we talk about the acting bit then Hiba Bukhari is like a breath of fresh air as she has gotten in to the skin of Hira so well that one feels that she in fact is this fictional character whom we have grown to love. Junaid Khan never disappoints and even Sara Bhatti now is comfortable playing Ujala which has begun to show in the way she is handling this character.
So what is next for everyone? Well stay tuned to Silsilay every Tuesday night at 8 pm only on Geo TV to find out.