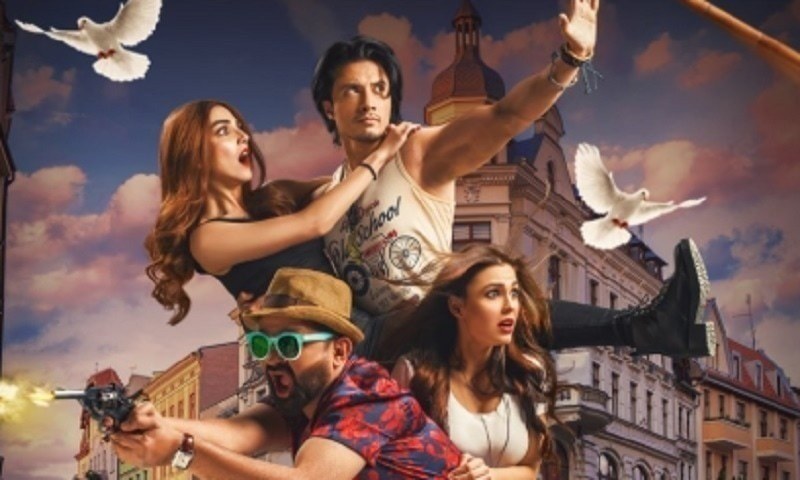 Loss of a parent can have a huge impact on the mind of a child. Unless given substantial help, they can take decisions which would dumbfound a sane mind. Teefa in Trouble is a story of Teefa (Ali Zafar) whose world view is shaped by the financial hardship, he and his mother (Simi Raheal) faced when his dad suddenly passed away; leaving behind nothing but 'izat'. While, Anaya (Maya Ali) is longing for love after her mom died in a car accident when she was 8 and her dad remarried a Sophie (Fia Khan) soon after.
Teefa In Trouble trailer takes you onto a thriller ride!
Their motivations thereafter are clear. One is looking for money by hook or crook while, the other is desperate for love and affection. Director, Ahsan Rahim, slowly lets us peak into their lives and masterfully creates a connection with the audience. You know Teefa is a badmash, but he comes back home to put his head in his mom's lap, so you urge him on. Anya is eccentric and volatile, but in her heart she is a softie, so you feel for her too. It doesn't harm that Ali Zafar is able to pull off that ripped hero persona, while Maya Ali looks drop dead gorgeous. That sympathy for these flawed characters from the audience is a big win for the film maker.
The trailer did gave away the plot pretty much. Teefa, is a strong man and does the dirty work for local businessman Butt Sahab (Mehmood Aslam). The incentive is to make enough money so he can open his own restaurant. Bonzo (Javed Sheikh) is a lifelong friend of Butt Sahab and the two had promised to get their children Billu Butt and Anaya married in due course. Now Bonzo, faces crises in business and wants to marry Anya with someone else, to get financial aid for his business. Upon Bonzo's refusal of Billu's proposal, Butt Sahab loses his cool and directs Teefa to kidnap Anaya from Poland. In Poland, we met Tony dot Shah (Faisal Qureshi), an old friend of Teefa (who is pretty much a wellah). Teefa's gets to know Anya and they predictably fall for each other. Will Teefa follow his heart or Butt Sahab's money entice him? Watch the film to find out.
Ali Zafar is in full form as he debuts in Pakistani cinema. Ahsan Rahim, gives the man a perfect platform. The Lahori in Ali Zafar shines through this flawed character. He plays the classic hero, who makes mistakes but has a shot at redemption. Ali Zafar, in public life comes across as diplomatic and shy to a degree. With Teefa, he embodies this cheesy charmer with ease. Like in Teray Bin Ladin, his comic timing is impeccable. The Kill Dil star shines as a singer too. Similarly, Maya Ali plays the rebellious daughter impressively. It's her debut film too but she has brought her A game to the table.
Faisal Qureshi, brings the Ulta Seedha persona to the large screen. He gets a lot of witty one liners, which make the audience laugh out of loud. Having tolerated the slimy dialogues in Jackpot a couple of weeks ago, Teefa's dialogues did seem a breath of fresh air. Butt Sahab and Bonzo's confrontations makes for fun viewing. Those moments especially stand out in the film. Moreover, Zain Haleem, has shot the film wonderfully well. It is perhaps done better than any other Pakistani film. Same goes for the action and chase sequences. Shani Arshad's background score is often exhilarating (in all the right places). A new standard has been set for Pakistani film makers.
Having said that, there are some issues with the film. The story is slave to Teefa, our hero. Things happen for him, at the right time because he is our Hero. This causes inconsistencies in the story. The 1st half is slick, but the 2nd half does drag on a bit. Songs, especially non item number looks forced.
Nevertheless, Teefa in Trouble is the mass entertainer audiences have been crying out for. There is drama, comedy, action, song and dance. There is something for everyone in the film. Its a terrific debut for Ali Zafar as an actor and producer; for Ahsan Rahim as a director. Box office success should encourage the duo to deliver more high quality content.
For now, Teefa shouldn't have any box office troubles!