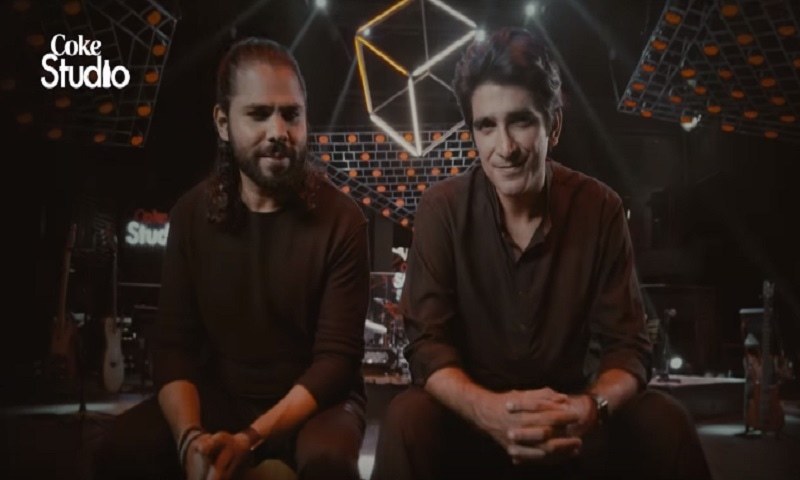 With a change in command, Coke Studio's eleventh installment marks a powerful beginning with beautiful rendition of Faiz Ahmed Faiz's poem, Hum Dekhenge, revealing over 70 artists as part of the much-awaited season.
From the opening track, we are assuming this season to be extra-ordinarily impressive. Produced by Ali Hamza and Zohaib Kazi, Hum Dekhenge celebrates the message of unity, hope and peace through powerful lyrics by legendary poet Faiz Ahmed Faiz.
The song has been beautifully composed and features new talent with the likes of Sounds of Kolachi, Khumariyaan, Lyari underground and The Sketches alongside bringing back old gems Ali Azmat, Jawad Ahmed, Abida Parveen and Hassan Jahangir, all set to set the stage on fire in August.
Keeping aside all its pros, we are loving the song because… it marks Ahad Raza Mir's debut as singer. Yes, he is a part of this season. Were you expecting? No, right! Even we were not. Our eyes popped out when we had a glimpse of the heartthrob during the song. Mir's charm is a reason enough to look forward to the season.
Something that is most worthy of applause about the new installment is that the producers have introduced two transgender singers Naghma and Lucky who have been given a chance to showcase their hidden talent. Staying true to its word, Coke Studio has fulfilled its promise to bring out diversity, equality and the message of peace worldwide.
Coke Studio Season 11 aims at introducing new genres and fusion where featured artists explore their heritage while showcasing unique styles.
This year's journey of Coke Studio began with 'Coke Studio Explorer' to discover music and stories from across Pakistan," said the producers.
"With a three years' tradition of doing artist reveals with a track which inspire the 'Pakistaniat' in all of us – there couldn't be a better choice for a track than Hum Dekhenge – a song by sung the people of Pakistan, for the people of Pakistan!" they added in a joint statement.
We are loving the harmonious ballad and adding it to our playlist right away. However, there seems to be a group of people who have had a heart break over the twist of lyrics and some ommissions made in the original for this rendition of Coke Studio.
Some people are also saying how Coke Studio should be sued for twisting the original version.


Well there's this view and then there's ours, because we like how the rendition has been presented. What do you guys think? Let us know in the comments below.