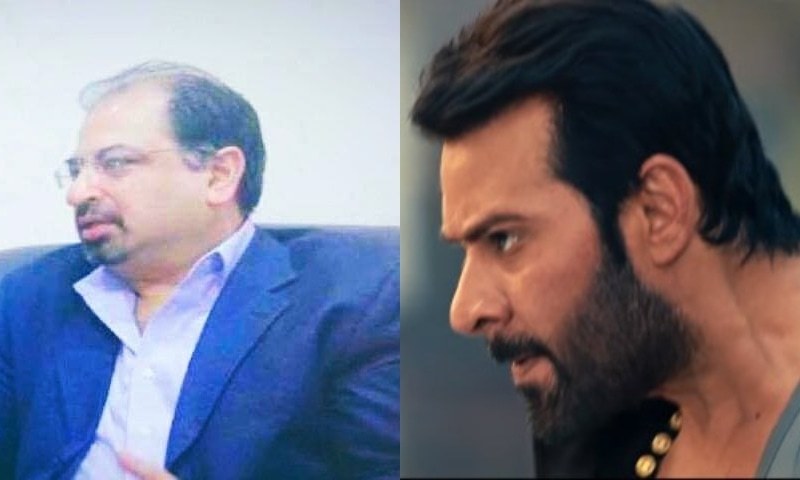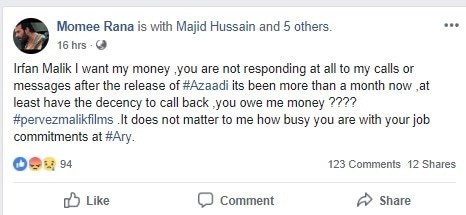 Moammar Rana has alleged that Irfan Malik – producer of Azaadi – has not fully paid him for the film

Moammar Rana and Soniya Hussain starrer Azaadi released on Eid-ul-Fitr and became a super hit for its patriotic theme and positive message. Until recently everyone was raving about it, but this time the movie is in news for all the wrong reasons.
Yesterday, Moammar.Rana took to social media and alleged that Irfan Malik – producer of Azaadi – has not fully paid him for the film and is not even responding to the superstar's calls and messages for a while.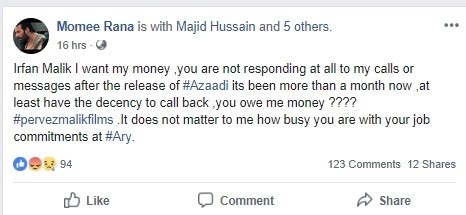 Moammar's wife, Mehnaz has also supported her husband's claim and threatened to reveal the true faces of production team who were trying to ''sabotage the film on every step".
Teaser in review: Azaadi looks intense and we love it
If this was not enough to make things look ugly, Irfan Malik also stepped forward and responded to Moammar then and there – on his Facebook profile. Irfan denied of owing money to Moammar and considered it to be a 'meager amount that was already adjusted in some other expense'.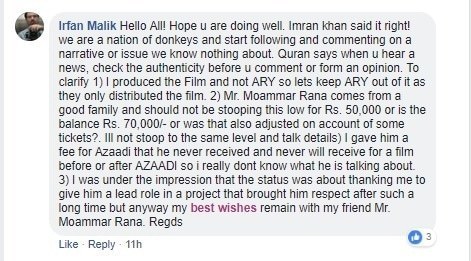 Ali Malik – who provided extras for the shoots -- also claimed on Moammar's post that the production team of Azaadi did not make payments for the extras and fillers etc. and Ali paid them out of their own pocket.
"I think Moammar Rana's claim is not even worthy of a response, I will not stoop to the level he has," said Irfan Malik while speaking to HIP; while further adding, "This is blackmailing and we as a fraternity should discourage it otherwise every XYZ will start defaming respectable people with false Facebook statuses."
Hip has also tried to reach Moammar Rana for his comment on the matter, and his response is awaited. Meanwhile we can only say one thing with surety: payment disputes between producers and cast is an old issue in our industry it arises every now and then. It's high time both the artists and production houses find a way to resolve this matter amicably without things becoming too sour to handle!