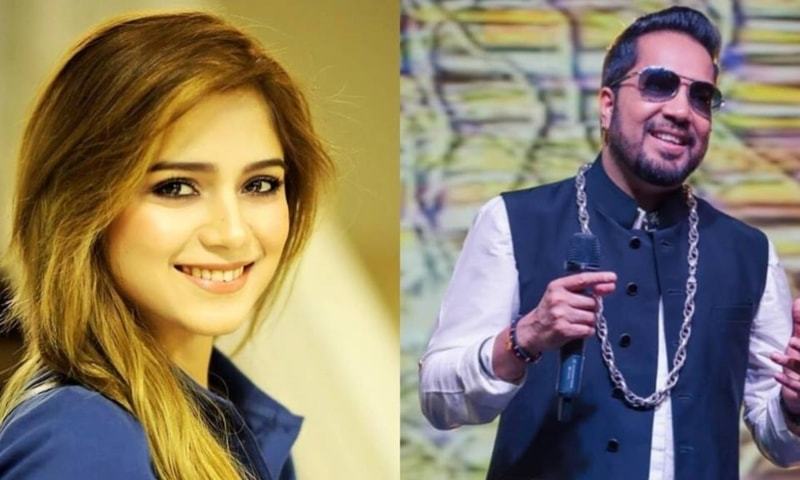 The young and talented singer recently revealed the exciting news herself, while talking to the BBC Asian Network
Aima Baig is one of those singers who can leave you completely mesmerized with their melodeous voice. On the back of this talent, in a very short span of time, Aima has gathered quite a fan following for herself which is still on the rise.
With tracks like Kaif-e-Suroor, Kalabaaz Dil and Baanware to name a few, Aima has made a name for herself. In a recent chat with BBC Asian Network, Aima revealed her future projects and plans which includes her collaboration with Bollywood singer Mika Singh as well -- now talk about the excitement we have!
If you are too a music lover like us then this news is H.U.G.E and here's why: For starters, both the singers posses two very unique voices and when compiled together we are sure it will create a magical composition for both Pakistani and Indian fans.
The duo also met in Dallas few weeks back and had already got us speculating about what they were up to, so naturally we were over the moon when Aima revealed the news herself and said, "I have a collaboration coming up with Mika and that is what we are working on these days."
Read: Aagha Ali and Aima Baig will lend vocals to Mere Bewafa's OST
Talking further she said, "I am a bit nervous too as this is quite experimental. I have never done something like this before. We will also be launching a video so it won't just be an audio."
Upon being asked if Aima would like to sing for Bollywood, she replied, "Being a singer I feel that I don't have boundaries, [and] if somebody likes my voice and wants me to do a playback for their movie I don't mind that at all."
Stars like Atif Aslam, Rahat Fateh Ali Khan and Shafqat Ammanat Ali as well as Ali Azmat have already made Bollywood fall in love with them. Now let's wait and see when and how Aima Baig's name will be joining this list in the near future.
But while she works with Mika Singh on a song, HIP would like to wish her all the best for this collaboration which we are sure will be a super hit in no time at all!