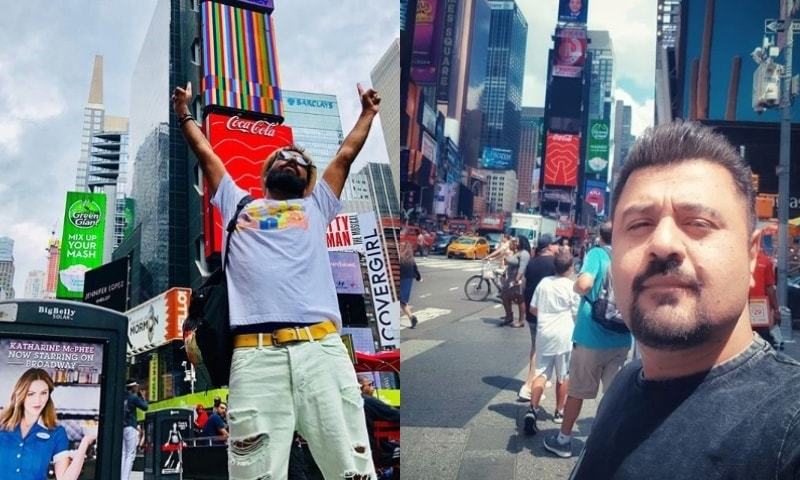 These celebs are giving us major #LifeGoals with their fun pictures in New York and we can't stop looking at them!

We all know that our most favorite celebrities were recently in Toronto for HUM Awards, and boy did they have fun! While we could not get enough of their Toronto fun, the news is that a lot of them have now headed to New York to paint the city red!
Here's a glimpse of the fun, Pakistani celebs are having in the city that never sleeps and quite honestly, we can't sleep either because we are too occupied following them on social media.
So the first Instagram post came from Yasir Hussain, who was all chirpy at the Times Square, New York. Soon after we saw many others in the city and it looks like our celebs are pretty good at amalgamating work with pleasure.
Kubra Khan, Ahmed Ali Butt and Humayun Saeed are also in the town for the promotions of JPNA2. Ahmed was also seen at the Times Square, chilling like there's no tomorrow.
While Kubra seems to be shopping for some cosmetics – of course, she gotta keep a good stock!
Adnan Siddiqui is also in New York – after his recent trips to Venice and Toronto – now that is what is called #LifeGoals Adnan, we are impressed! Here's Adnan and Yasir, paying tribute to Alamgir in Manhattan. Wah sir jee!
In addition to the work that they have to take care of, they are definitely having lots of fun too. Here's Adnan and Yasir being goofy on the streets of the city.
So it is pretty safe to say that these celebs are giving us major #LifeGoals and while we are stuck at work – these snaps of them having fun AT WORK are a breath of fresh air. Have fun you guys!