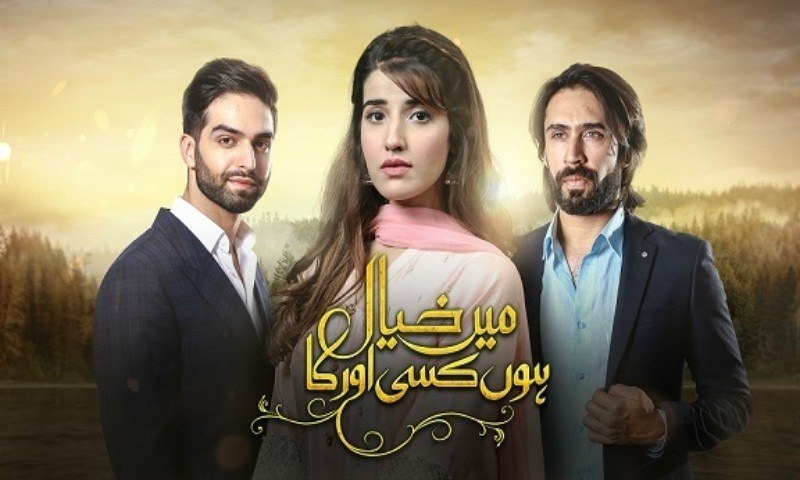 There were powerful scenes of Hareem and Ali this time, which shows their chemistry from Parchi and Diyar e Dil days!
Main Khayal Hoon Kisi Aur Ka is one of those dramas that caught our attention in the very first episode. A tale of love, family values and different personalities ecountering each other due to fate is what the drama is all about. So far we have enjoyed watching it and its complicated story, full of twists and turns is keeping us engaged so far.
As the name and teaser show, this is a love triangle where a simple and happy girl Dania is in love with her her best friend Zaryab and sees her as her future life partner. However, it's the fate that Dania gets married to Zaryab's (related) brother Armaan, who is a foreign return, playboy and immature guy – in addition to be being an extremely loving brother.
Although Arman and Dania get married but somehow, Arman finds out about Dania's and Zaryab's feelings. Being his irrational self, he divorces Dania on the very first night and wants his brother to find his lost love - however, sensible and mature Dania tries to control the situation and decides to give the relationship some time. Dania knows better that the neither the society nor her own in-laws will accept her after this fiasco.
Upon everyone's insistence, Dania and Arman go for a honeymoon, however since Arman does not want Dania around he abondens her. This is where Dania is stuck between maintaining her family values and her sanity.
Hareem Farooq and Ali Rehman Khan return to TV in 'Main Khayal Hoon Kisi Aur Ka'
Written by Shabana ghulam nabi, and directed by Emran Kaleem Mallick, Main Khayal Hoon Kisi Aur Ka is a comeback drama of Hareem Farooq after hitting the big screens. Ali Rehman and Alamdar Hussain starrer drama is just an expected and simple story by MD Productions in collaboration with Arif Lakhani, Imran Raza Kazmi and Hareem herself.
Now in case you have not watched the recent episode, let's give you a quick summary.
This episode starts with Dania in a helpless position, trying to find some escape from the situation through suicide. Luckily for her, Zaryab is able to track her down. After informing Arman - who was himself now worried - Zaryab takes her home where everyone is happy to see them.
Arman by now has a very clear idea of Zaryab's feelings and wants him to express his love for Dania. However, both Dania and Zaryab are sacrificing their love for their own reasons. The dialogues and situation in the drama were captivating since the beginning and as always Hareem stole the show with her remarkable acting; on the other hand Ali Rehman was also nothing less than flawless.
Zaryab's (related) mother wants her to get married to a nice girl and has a proposal too which he obviously rejects. This is creating a confusion for everyone in the family, including Arman who wants his brother to take one decision in life. Dania is also on the same page and wants Zaryab to get married so that her image can be cleared in Arman's eyes. Who knows there might be another twist in the story after Dania convinces Zaryab to make another sacrifice.
There were some really powerful scenes of Hareem and Ali this time, which clearly defined their chemistry everyone already acknowledges after Parchi and Diyar e Dil. Let's see how long Dania is able to sustain this fake relationship for the sake of family honour and convinces Zaryab for another crucial step. To find out, watch the next episode of Main Khayal Hoon Kisi Aur Ka that airs every Saturday 8:00 p.m. only on hum tv.