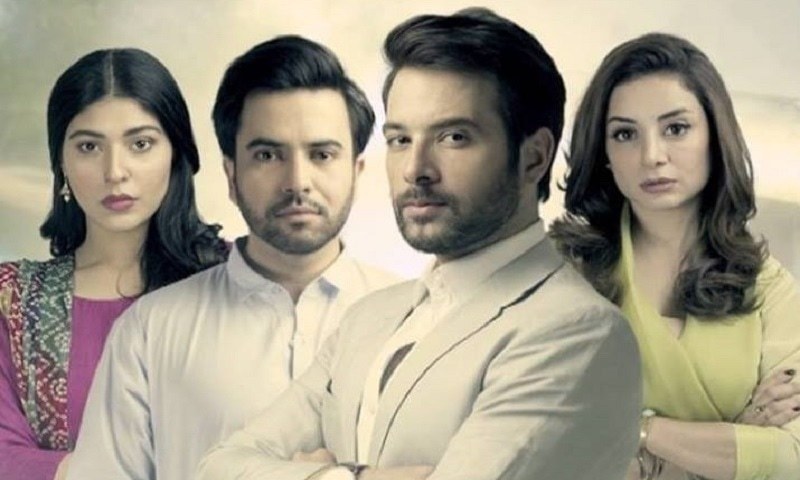 Khasara, a drama we are lured back to every week. There is something in this interesting tale of relationships, betrayal and hatred that keeps bringing us back every time the episode ends. An intriguing story laced with some fine performances by Mikaal Zulfiqar, Junaid Khan, Sonia Mishal and Sarwat Gilani, Khasara is a highly engaging watch on ARY Digital. Shahid Shafaat as a director has given life to Maha Malik's story and together they both have formed an irresistible combination.
We've been watching Khasara for 24 episodes now and the story has progressed to a point where we realize why it was named as such. Sila (Sonia Mishal) who has blinded by greed left her gem of a husband Monis (Junaid Khan) for the casanova Mohtasim (Mikaal Zulfiqar) and is now settled with him as his second wife in a new home. Where Sila might have found materialistic peace, she is now devastated within because in this episode she finally came to realize that both Mohtasim and his wife Linta ( Sarwat Gilani) used her as a pawn to settle disputes amongst themselves.
Sila has been led into a web Mohtasim weaved around her. What we don't understand is why, if Mohtasim was using her as a pawn, is he now looking after her well and doing everything in his might to please her. Yes, he unleashes his real side in front of her every now and then, but he still tries to placate Sila with things she likes most.
By now, Sila has realized that Mohtasim has accepted her as his wife but will never accept her son as his. He leaves him behind and values his own son over everything else, which ignites Sila. Also Mohtasim has rejected her demand of divorcing Linta and will now be spending alternate nights with her and Linta, as Linta too will not back off this easily.
In another universe, Monis is trying to get a grip back on his life. He is devoting all his time to his son and also looking after his neighbor Areeba whose husband has passed away. For now, Areeba has been cornered by the neighborhood aunties to avoid Monis but we believe something will lead to the two being together. And to be honest, a man like Monis deserves a devoted wife like Areeba who will not only look after him but also take care of his honesty and loyalty.
Khasara In Review: Sonia Mishal and Junaid Khan make the drama worth watching
This week's episode was owned by Sonia Mishal, Sarwat Gilani and of course Mikaal Zulfiqar. We got to see very little of Junaid Khan this week and we hope this is only temporary and he gets more screen time once his track kicks off. Sonia Mishal is excellent as Sila and so is Mikaal Zulfiqar. We hate him for playing the casanova Mohtasim to perfection.
And so, here we are, waiting for another exciting episode of Khasara, next week, every Tuesday at 8pm only on ARY Digital.