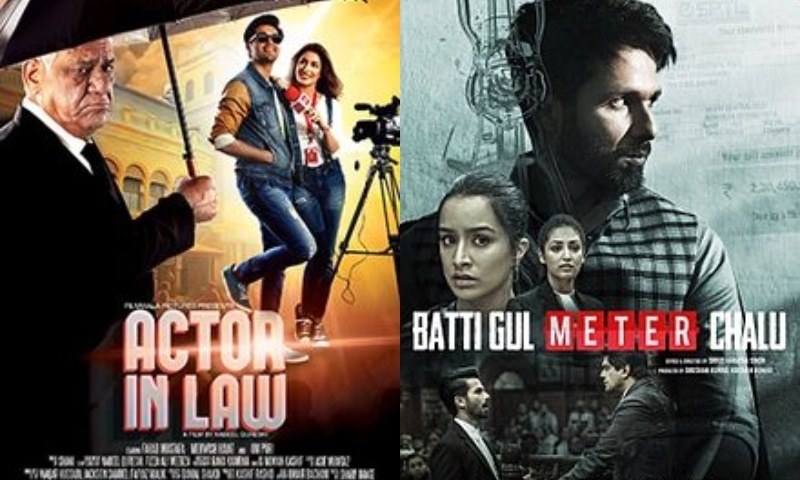 Like a situation in Actor in Law, Batti Gul Meter Chalu depicts the story of a common man who faces daily loadshedding.

It's been a long, long while since Indian music industry started taking inspiration [read copy] our songs and compositions. It has happened so many times - without due credit - that our local artists have somewhat gotten used to of the practice.
Now it seems like, Bollywood is taking the inspiration a step further and this time it's Fahad Mustafa and Mehwish Hayat starrer Actor in Law that has caught the eyes of Indian filmmakers.
The trailer of Shahid Kapoor starrer, Batti Gul Meter Chalu is out and we couldn't help but scratch our heads thinking, "where have seen this before?"
Luckily for us, the lead actress of Actor in Law Mehwish solved the mystery and said that the trailer reminds her of her own film Actor in Law.
After seeing the trailer, she tweeted and said, "Great to see that our neighbours are now taking inspiration from our movies."
Like a situation in Actor in Law - where Fahad is in the court against electricity provider - Batti Gul Meter Chalu also depicts the story of a common man who faces loadshedding on daily basis and finally decides to fight against the corruption that causes it.
Albeit that Mehwish seems happy over the fact that her movie is an inspiration, the team behind the lense is upset over Batti Gul Meter Chalu's unethical practice of not giving the credit.
While talking to a publication, Fizza Ali - Producer of Actor in Law said that this goes out to show that our movies are being watched across the border - though discreetly. She also said that she wishes that Indian cinemas start screening Pakistani movies as we do here.
Actor in Law to Screen in Mumbai in Om Puri's Honour
The director, Nabeel Qureshi commented that the timings of Shahid Kapoor starrer is very good for Fahad Mustafa starter - scheduled to be screened in Mumbai soon. Nabeel said, "It's good that the people will know about the original movie from which the inspiration has been taken."
Well, fortunately for us that despite the team of Batti Gul Meter Chalu not acknowledging Actor in Law - our local production will soon be there itself to entertain the audiences who will definitely be able to relate to the story of the movie.