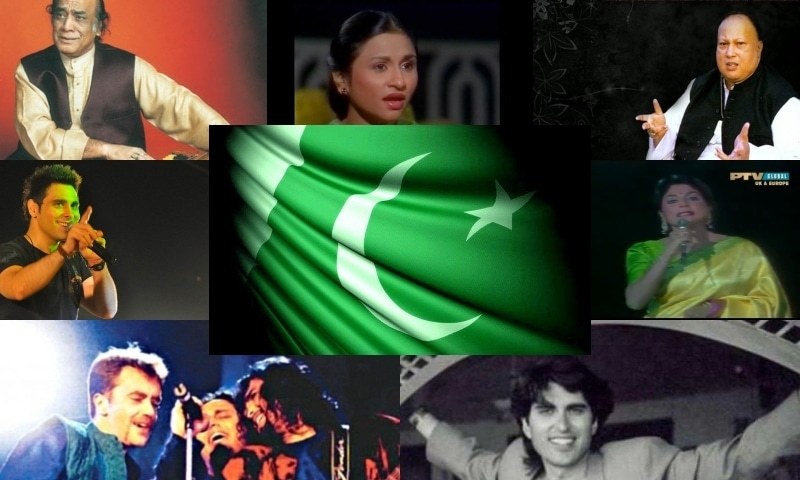 Here's a list of evergreen, best of our time songs that will take you down the memory lane on this Independence Day.

14th August is here and like every year, the festivity nearing the day and on the day itself has taken our patriotism to a whole new level and we can't stop chanting 'Pakistan Zindabad'.
While you must be engulfed in the 71st Independence Day activities, here's a list of 7 songs - the best of our times - to awaken the patriotic in you. Oh and did we tell you, these songs will also take you back in time when our generation grew up listening to these ever green melodious national songs!
DIL DIL PAKISTAN
Released by Vital Signs in early 90s Dil Dil Pakistan is our all time favorite. This is probably also the first song most of us learned in childhood. Listening to it, takes back to the golden era of Junaid Jamshed's that actually introduced us to pop music.
JEEVEY JEEVEY PAKISTAN
Now what introduction does Jeevey Jeevey Pakistan need? It's catchy, it's simple and we can't stop humming to its evergreen tune. This is the ultimate song to get you into today's feel.
MERA PAIGHAM PAKISTAN
Sang by the legend Nusrat Fateh Ali Khan, Mera Paigham Pakistan begins with the beautiful lines "Jab hum ne Khuda ka naam lia, uss ne humein inaam dia, Pakistan Pakistan" - this gives you the ultimate feeling of gratefulness for the independent beautiful country Pakistan is. This is also one of our most favorite video that actually bleeds green - in literal sense!
YEH WATAN TUMHARA HAI#
Sung in the melodious voice of Ustad Mehdi Hassan, Yeh Watan Tumhara Hai always gives us goosebumps. The lyrics, the melody and Ustad Mehdi Hassan's voice combine and make this song a masterpiece.
ISS PARCHAM K SAAYE TALEY
Narrating the story of unity and brotherhood through its golden lyrics, Iss Parcham k Saaye Taley was our generation's the most favorite song to sing on Independence Day celebrations at school. The lyrics are still fresh in mind and the memories associated to the song are the sweetest. This song makes it to our list for three reasons, it's nostalgic, it's relevant to today's era - when unity is needed to build a strong nation - and it is beautiful music!
JAZBA JUNOON
Back in 90s, who didn't love Junoon Band? No one! Oh and Jazba Junoon that till date comes off as an energetic song, full of patriotic vibes is what we all love. This song turns your 'jazba' into a pure 'junoon' for our homeland and its music is enough to make one stand up and sing along!
DIL SE
Dil Se by Haroon is a beautiful fusion of pop music and melody that resonates with our local culture. The song video is another interesting aspect that ensured we never forget the song. Revolving around the story of a man who was a part of independence movement and is now living in independent Pakistan gives us true feels! This is yet another evergreen song that we hum everytime it's played.
Also read: Here's how our stars are celebrating Independence Day!