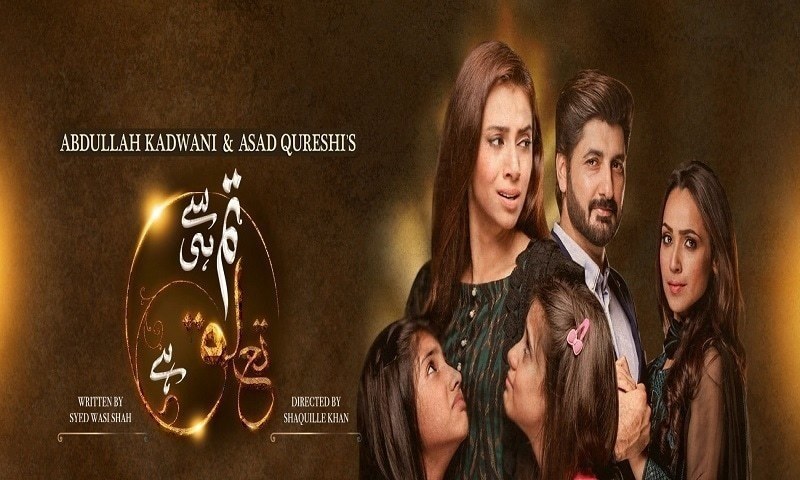 7th sky production has yet again joined their hands with Geo entertainment presenting another amazing play that focuses on the impact of troubled marriages, their affects on children and what mothers do to keep their children safe from all the hurt.
With Tumse Hi Taluq Hai, writer Wasi Shah has brought another masterpiece of his writing and along with creative direction of Shakeel Khan, you have a winner on your hands. The story revolves around the life of Sadaan (Syed Jibran) and Alina (Tooba Siddiqui), cousins who are married but suffer from a troubled relation which is highly impacting their two daughters.
While Sadaan complaints Alina of having a relation with her cousin, Nakheel (Ali Abbas) he himself is having an extra marital affair with Rama (Faryal Mehmood) and has decided to marry her as well.
Tumse Hi Taluq Hai - the Tale of Love, Hate and Greed Continues
Rama hails from a poor background and feels Sadaan is the only way to escape from her problems. She has been charming Sadaan with her tricks and it has become so much so that he has become blinded with love.
Over the few episodes, Sadaan's mother dies and leaves all her wealth in Alina's name. The property now belongs to Alina and her daughters and Sadaan is enraged over the fact. He throws Alina out of the house and keeps the children at him home.
In the recent episode, Nakheel (Alina's cousin) is convinced albeit reluctantly to compromise and apologize to Sadaan. In turn, Sadaan allows Aline to be back home.Their daughters are happy but Alina has sensed there is impending trouble as she finds out Sadaan is having an affair with Rama.
Also Sadaan asks Alina to sign a few papers without reading them and upon her reluctance he leaves the house, leaving Alina and their daughters all alone. However, Rama, his girlfriend, leaves him in the middle of the night saying how she cannot take it anymore and needs him to decide finally.
On the other hand, Nakheel's wife has been diagnosed with cancer and it seems her ailment has progressed to its last stages.
A mixture of emotions and suspense are keeping audience engaged in Tumse Hi Taluq Hai. Each and every actor has been playing their parts well but you'll have to give it to Faryal Mehmood and Syed Jibran for playing such hateful characters with much conviction. You'll hate the duo on sight.
Seems like 7th Sky Entertainment has another amazing project on their hands with Tumse Hi Taluq Hai. The drama is amazing and progressing at a fast pace. Let's wait and watch to find out how Rama will interfere once again in Alina and Sadaan's life and destroy their peace forever.