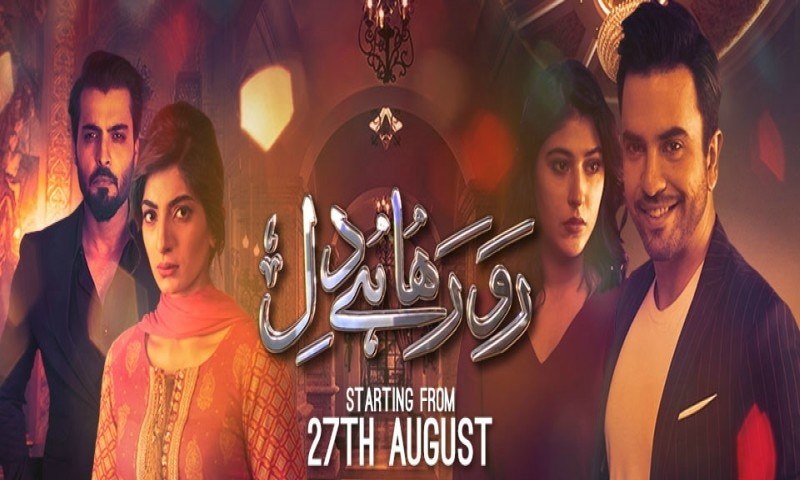 Junaid Khan, Sonia Mishal, Asad Siddiqui and Maryam Ansari's starrer intends to blow you away with an amazing storyline

This amazing duo has done wonders in Khasaara and is gearing up for Tv One's* Ro Raha Hai Dil* along with Asad Siddiqui and Maryam Ansari.
With its teasers already doing rounds on TV, the drama seems like a tale of love, greed which begins as a simple love story - with Ahad (Junaid) being in love with Zoya (Sonia) but later turns out to be a tale of greed and betrayal. We also saw Maryam Ansari in a powerful role where she is apparently in love with Humayun (Asad) yet unable to attain his loyalty.
While talking to the cast about their roles in Ro Raha Hai Dil during the cast meet up, Junaid told HIP, "My character is quite different to what I have done previously, Ahad's character is very immature, loud, expressive and emotion driven who loves his cousin a lot but due to some family issues his cousin is not into him and that is how the story grows."
"I had a great experience working with Erum binte Shahid's Draamebaaz production and have done my previous project Silsilay with them too," he added.
While talking about the charatcers he has already done and is willing to do he said, "Television has very less scope for men to experiment with their roles and characters, I wish the TV audience to be wide enough so we can also do male oriented topics instead of female oriented ones only."
Talking about Zoya's character, Sonia stated, "My character is of a very mellow down and serious girl, very opposite to what I played in Khasaara. People might think in the beginning that my character is a negative one and maybe they'll hate me for it but slowly they'll realize that it's a very hurt character."
While telling us about a character she wants to do, Sonia said, "I always wanted to do a role of someone with a disability and how they face everything, how they overcome their problems and so, this is one of the issues prevailing in our society which we do not highlight."
Asad also told us about his character, "My character is a very negative one, with different shades to its personality, it's a very difficult character and no one can figure out whatever is going on in his mind, it's a very unpredictable character."
"I enjoyed doing this character, and I like doing these kind of charatcers because they have a performance margin, and when you are playing a negative character you can experience a lot of things and cannot be monotonous only. My experience was amazing, I have done negative before but not like this one before."
"I want to do very positive and light character now as i have done a lot of negative ones," he added.
Also read: Junaid Khan & Sonia Mishal Starrer Ro Raha Hai Dil Looks Appealing!
After hearing about the characters from the actors themselves, we are now anticipating the drama all the more! Ro Raha Hai Dil starts from 27th of August, every Monday 8 p.m. only on Tv One. We are on it!