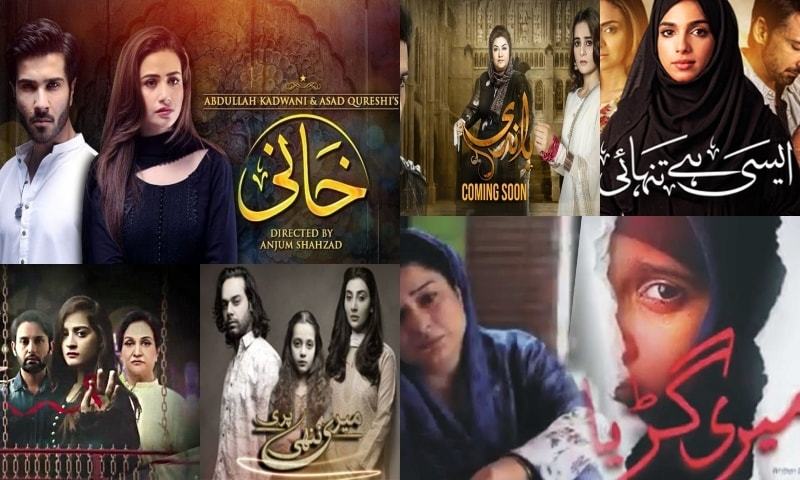 Over the past few years our drama industry has gone beyond entertainment and discussed taboo topics in open.

Gone are the days when television was only purposeful for entertainment. Over the past few years our drama industry has done job far greater than entertaining the audiences and touched topics that were considered a taboo to be discussed in open. Last year and this one has been no different, and here's a list of dramas that you should binge watch if you are interested in watching something meaningful. These 6 dramas have a strong message for the viewers and we love them!
Khaani
It would probably be safe to call Khaani one of most hit drama of this year. Starring Sana Javed and Feroz Khan, Khaani was the story of a young lad who with his strong financial and political background commits murder of a common man; while the drama eventually send out a strong message and justice prevailed, it was the intense storyline addressing the realistic issue that got Khaani an unprecedented fame among masses. Written by Asma Nabeel, directed by acclaimed Anjum Shahzad under 7th Sky Entertainment, Khaani ended earlier this year on Geo Entertainment after highlighting issues such as political and criminal affiliation, lawlessness and VIP culture that gets to the head of elites.
Beydardi
Recently ended on ARY Digital, Beydardi was one of the most powerful dramas of recent times. Starring Aiman Khan and Affan Waheed, the drama discussed the highly sensitive issue of HIV aids, myths associated and the path lives of victims take after the disease. Written by Shugufta Bhatti and directed by Ahmed Bhatti, Beydardi ended on a very strong note last week.
Meri Gurya
Highlighting the most grave issue of our society today i.e. child abuse, Meri Gurya is one intense drama to watch. Starring Sania Saeed, Mohsin Abbas Haider, Sonya Hussain and Sajid Hasan the drama has touched the chords of its audiences' hearts with intense acting and strong storyline. While Meri Gurya is still on air on ARY Digital, we have high hopes from this drama's end which is sure to send out a strong message. A Big Bang Entertainment and Dr Ali Kazmi's production with direction of Ali Hassan, Meri Gurya is penned down by Radain Shah.
Aisi Hai Tanhayi
Ended in March of this year, Aisi Hai Tanhayi revolved around the story of a girl who becomes victim of cybercrime and as a result her whole life turns upside down. With Sonya Hussain in lead along with Sami Khan and Nadia Khan, Aisi Hai Tanhayi created awareness regarding social media, internet and communication, that we all take for granted in today's age. The drama ended on a happy note as Pakeeza (Sonya Hussain) got justice, however it was an eye opener for the young generation. The drama was a co-production of Fahad Mustafa (Bjg Bang Entertainment) and Dr Ali Kazmi, written by Mohsin Ali and directorial of Badar Mehmood.
Meri Nanhi Pari
Revolving around the story of a young thalassemia patient and her mother's life, Meri Nanhi Pari stood strong on the back of its unconventional storyline. Starring Ayesha Khan – who bid adieu to the drama industry after this one – and Ezzah Zulfiqar who played her daughter, Meri Nanhi Pari discussed how the life of thalassemia patients and their families get affected because of the disease. It also portrayed a mother's resilience in order to fight for her child against all odds and eventually winning the battle against the deadly disease. This drama created a much needed awareness in today's world where we see an alarming rise in thalassemia children. Written by Naila Ansari with direction of Ali Faizan and Kashif Ahmed Butt, Meri Nanhi Pari went on air earlier this year on ARY Digital.
Bhaandi
Starring Aiiman Khan and Muneeb Butt along with Yasir Hussain Hussain and Hina Dilpazeer, Bhaandi is soon about to go on air on HUM Tv. Although teaser of the drama hasn't given away much but the news is that the drama will be addressing various important social issues. From the plight of marginal segment of our society, to feudalism and domestic abuse, Bhaandi is out and about to make waves for issues which have been prevailing in our society for more than enough time. Penned down by Khaani famed Asma Nabeel under the helm of Ahmed Kamran, Bhaandi is soon going to be on our television screens with a strong subject matter.
Also read: 10 Pakistani dramas that address bold topics and social issues!