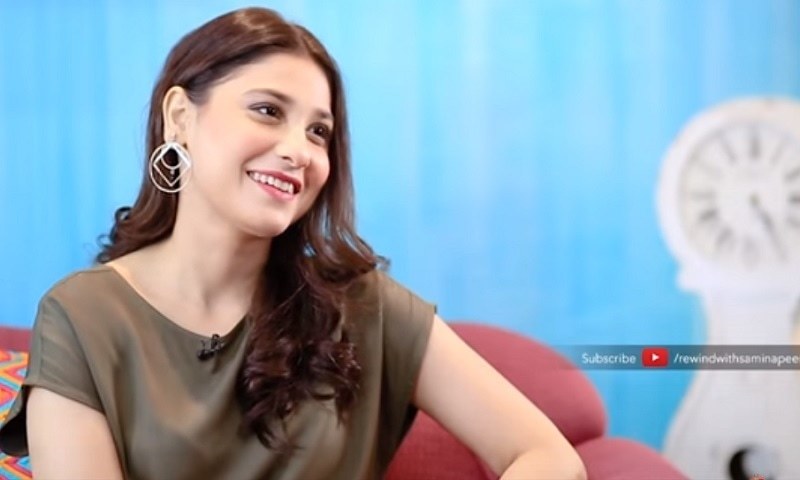 The actress said she could relate to her character in Udaari because of what happened to her in her real life!

After her hit drama serial Udaari, Hina Altaf does not need introduction of any sort. The phrase 'she came, she saw and she conquered' can conveniently be molded for the 25-years old VJ turned actress who has impressed us with each performance since her on-screen arrival.
But there's much more to her jolly-self that catches the eye and it came under highlight in Hina's recent interview 'Speak Your Heart with Samina Peerzada' where she unfolded her short life's very long story.
Born as the only daughter to her parents and sister to her two brothers, Hina opened up about her relationship with her family, her mother's illness, her depression and trauma that she faced in very young age. We couldn't hold ourselves from getting impressed listening to her inspirational story of fighting the battles and then coming out as the happy, strong person that she is today!
"I want to be honest in this interview as there aren't a lot of times when you can say these things on television," said Hina in the beginning of the heart-to-heart talk.
"Ever since I am born, my mother who is a schizophrenia patient has been suffering in her life," said the actress about her mother's illness. "She is a wonderful mother but after what she went through she couldn't maintain a balance in her life," a teary-eyed Hina added.
In addition to her mother's illness, Hina herself suffered from depression because of a trauma in her life.
"When I did the scene in Udaari where I was the witness and recalling what had happened to younger Zebo, I could relate to those dialogues because of what I have been through in my life," Hina revealed her story.
"At the age of 14 years, I could not sleep for the whole night because of the fear of what I had been through might happen again, my paranoia kept me up whole night," she stated.
After suffering for more than half a decade due to her worsening depression and her mother's illness – who doubted her of being in illicit activities when she would go for shoot – the 21-years old Hina decided to leave her home and be alone.
"There was a time when I got so tired of everyday fights at my home that my own health was deteriorating and I couldn't let that happen. I had to take care of my home, I had to run the house you know," said Hina to her host Samina Peerzada.
In order to run her house and continue her work, which gave her financial stability, Hina left her home at a very young age and fought her own battle from there.
But who motivated her to be so strong, asked Samina.
"I was 21-years old when I met Dr Mohammad Alam who helped me get out of depression. I have his name tattooed on my wrist now," Hina told of her mentor who supported the actress to fight depression and focus on finding her personality.
Over the years, Hina shared how she made life changing decisions and one of them was to forgive the past and move forward.
"When I started forgiving people, I became stronger," she said with her evergreen smile.
As her life progressed, Hina learnt to focus on her physical health, her mental well-being and above all she learnt how to be grateful for life. "Life is the name of gratitude," she said her simple philosophy.
While Hina openly talked about her traumatic past and her strong personality, the actress also admitted to be weak even today in one matter of her life.
"I am very strong in life now, nobody can break me but I am still not strong enough to see my mother in her current state. It's the most difficult thing in life to see your mother suffer," confessed Hina.
The interview reflected a lot upon Hina's life which started as a young tomboy kind of girl and then evolved into a very strong yet feminine version of her today. Hina's story is an example of a simple question actress asked during the interview, "why not give your girls a little chance?"
Also Read: Hina: "I'm done with weepy and enchanting girl-next-door."