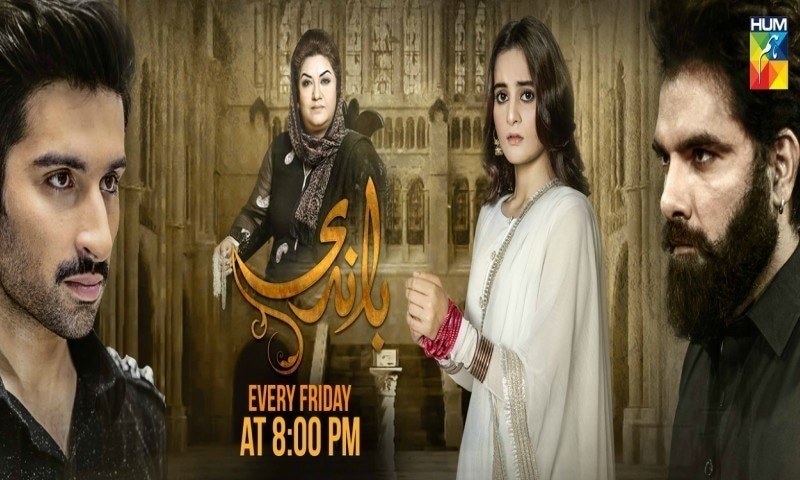 The first episode broadly revolved around the theme of feudal system where underprivileged are bound in modern slavery
Written by Asma Nabeel and helmed by Syed Kamran Ahmed, Baandi is a story that truly reflects the tribal areas of our country. Story of a girl who sacrifices her life for the sake of honor and prejudices imposed by the society.
MD Productions has yet again brought an exciting and powerful play Baandi starring Aiman Khan and Muneeb Butt.
After doing back to back amazing characters on many channels and doing it with total understanding of each and every role, 'Meeru' is yet another well suited character for Aiman's personality.
Muneeb Butt is 'Inspector Wali', a sensible and responsible man who fulfills the requirements of relationships. As Shahnawaz Ali Khan and Faiza's only son, Wali seems to be an obedient child.
Yasir Hussain is playing Tahawar, a villian who you can say is a total winning performance. After doing a couple of films, hosting and various telefilms, Yasir is doing this kind of television play and that too in a negative role for the first time. His voice modulations and get up transitions are up to the mark!
Hina Dilpazeer is playing Faiza's character. Wife of Shahnawaz Ali Khan and mother of Wali, Faiza has a stubborn and dominating nature. Once again, Hina has completely transformed herself into the character she's playing – totally what she does the best!
Short Yet Intense and Thrilling Teaser of Baandi is Out!
The first episode broadly revolved around the theme of feudal system in which underprivileged people of rural areas are bound in modern slavery. Meeru is a happy girl, who loves her village. Her father has speech disability as a result of punishment by the feudal lords for not returning the borrowed money. Meeru wants to study and change her situations.
On the other hand, Wali is surrounded by worries of his only sister who just encountered miscarriage, after having a forced marriage with Adil. Parents of Wali are however not concerned or serious in this matter, which makes Wali more anxious.
Tahawar is n powerful but illiterate man who saw Meeru and intends to have her in his reach. He asks her father to send her for work, but now it seems that things will be against Meeru's fate as she refused to work with Tahawar.
It is now going to be one of the major plot twists to find out how Tahawar will grab Meeru's attention or her life as a matter of fact.
Overall the storyline seems nice, the acting performances given the serious subject and a remarkable direction is making Baandi one of our must watch. To find out more about Meeru's journey, tune into Hum TV every Friday night.