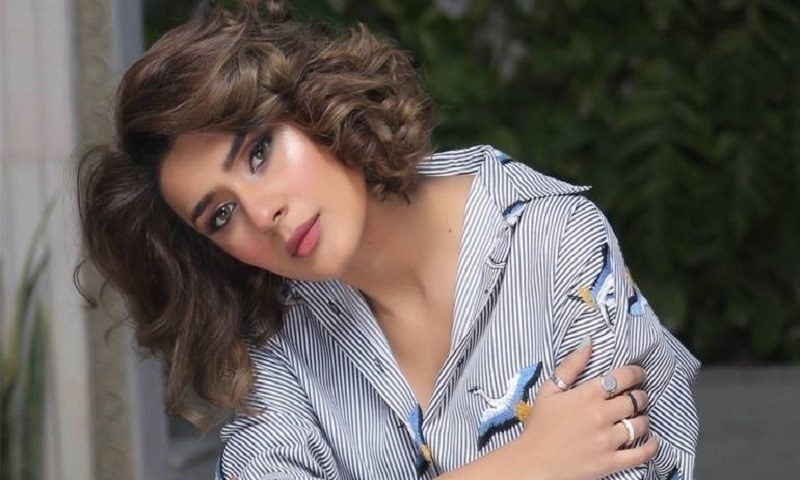 In a recent interview with Fifi Haroon, the actress revealed her reasons for deciding that Bollywood was not for her.
Kubra Khan made her debut in the world of entertainment by appearing in movie Na Maloom Afraad but after that the pretty young actress disappeared for a while as she returned back home to London. After a mini hiatus she made a comeback and let's just say the time she was away worked in her favour as Kubra came back with a bang!
Staring in plays like Sang-e-Marmar, Alif Allah aur Insaan and Muqabil as well as the recent block buster Jaawani Phir Nahi Aani 2, it was in a recent chat with BBC Urdu's Fifi Haroon where she revealed how she doesn't want to go to Bollywood and had to stop calling Humayun Saeed 'bhai' in order to do the romantic scenes with ease!
But how did the topic of Bollywood get in to the conversation? Well you might or might not know that Kubra had signed on for a film in Bollywood called Welcome to Karachi where she was to play the role of a Pakistani Muslim girl, but since the writer and script changed midway - while Kubra was also asked to do an item number - the actress chose to opt out of the movie.
"The experience which I had on set of Bollywood was fantastic but the reason why I decided that I won't go to Bollywood was because I had a contractual issue where I was smart enough to add few things like what I can and can't do," said the Muqabil actress.
Read: Kubra Khan talks about her 'judgmental' perceptions about Pakistani women
Adding further she said, "Item number was the first thing I said I won't do because my character was of a Pakistani girl and I didn't want to portray Pakistani or Muslim women in a different light .Another thing was that I won't say anything against Pakistan as I want to represent the country with respect."
We must say we are proud of Kubra's choice and she just hit gold with the massive success JPNA 2 is enjoying since its release. However, there was quite some age gao between her and her counterpart Humayun Saeed; so what was it like romancing him on screen, asked Fifi.
"At first it was very odd as I would call him Humayun Bhai because that is the vibe you get from him so when the romantic scenes would come it would make me feel awkward so I stopped calling him Bhai and then things became easier as Humayun automatically puts you in that romantic mood zone where you easily get in to your character," she replied.
Additionally, Kubra is also not bothered about her and Humayun Saeed's age difference, as the actress feels that point is irrelevant as long as the duo share a good on-screen chemistry .
After seeing her with Fahad Mustafa in Na Maloom Afraad, Kubra also revealed how her fans would love to see her with Fahad in a project too as well as Hamza Ali Abbasi which has made us hopeful that it happens soon. We are pretty sure she and Hamza will set the screen on fire with their good looks and charm To hear her complete interview on BBC Urdu click here.