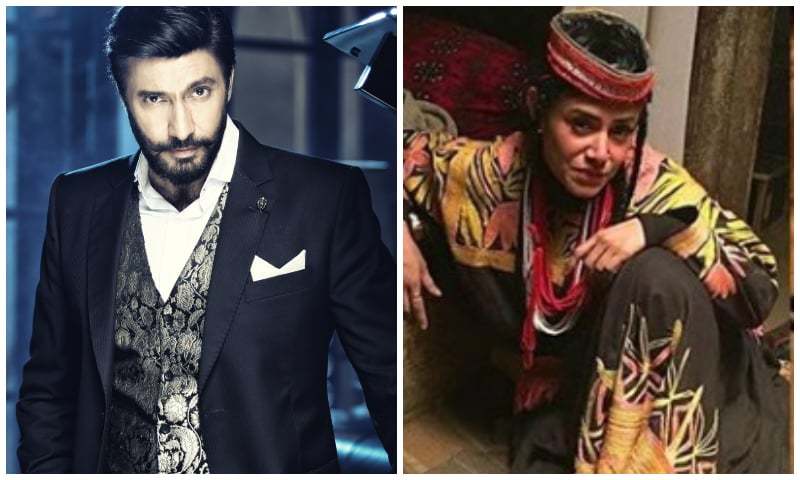 Directed by Faisal Turk, the film, an emotional story of a Kalashi couple, is being produced by Ahad Raza Mir

We've seen him in comic roles and we've seen him doing negative roles as well. We've also seen him as the lovable chocplate hero and at times as the boy next door as well. Whatever he does, Aijaz Aslam, is one actor who has matured with his performances since he joined the industry. Today, Aijaz Aslam is a veteran, an actor and a producer, who knows what is needed when a good performance has to be delivered.
However, challenging himself now, Aijaz Aslam is all set to portray a character he has never tried before in his life. Yes, you heard that right. Aijaz Aslam is gearing up to play a Kalash native in his upcoming feature film, Kalasha.
Written and directed by a 21 year old passionate filmmaker, Faisal Turk, Kalasha, as narrated by Aijaz, is a very emotional film about a Kalashi couple and their children. There's struggle, there's love and hardships that Kalash families have had to face ever since the economy went down in the region due to Taliban and security threats.
Talking to HIP, Aijaz Aslam shares how it has been a beautiful experience shooting for Kalasha, over the past few months. "The character I am playing in this film has given me a great acting margin. Its something I haven't done before and in circumstances I've not experienced earlier. The script, the dialogues and the story are very well written, so much so that they'll move a person to think and feel the plight of the Kalash natives," said Aijaz.
Along with Aijaz Aslam, Angeline Malik will be playing an integral part in the film as Aslam's wife. Special appearances by fellow actors including Uzma Hassan, Adnan Shah Tipu and others will also be pivotal to the film's plot. While most of the film has been shot, the post production of Kalasha is being over looked at the Asif Raza Mir's facility which paved way for Ahad Raza Mir stepping in as a producer for the film. Aijaz tells how Ahad too has been passionate about the project and looked after its post production after stepping in as a co-producers.
"We've shot this film with nature and in nature. You will not find any special effects or CGI in Kalasha and this is what makes this film different from what we've been seeing on screen. Its not only natural, but its the sort of film you see being made at international levels," shared Aijaz, while telling how Kalasha would not only be released in cinemas but also around the festival circuits in the world. "We're planning a festival release for this film as well," added Aslam.
Aijaz Aslam dissapointed with the Lux Style Awards
"Kalash is such a beautiful place and we believe the recent situations have mimed the potential of the region. However, with security growing and circumstances returning back to normal, we hope for Kalaash to find its prior position and for families to settle down once again. With the film, we have not only brought about the struggles of Kalash natives on the forefront but also the beauty of the region, its festivities and what all it has to offer. I have a feeling, this film will play a huge part in boosting tourism for Pakistan and Kalaash specially," shared Aijaz Aslam.
The film is left with a short Karachi spell while its post production is going on in full swing. The background score for Kalasha is classic and very original, taking inspiration from Kalash and its traditional dance festivals. Abida Parveen has done a track for the film as well.
Kalasha is set for its release by March 23rd or near dates next year.