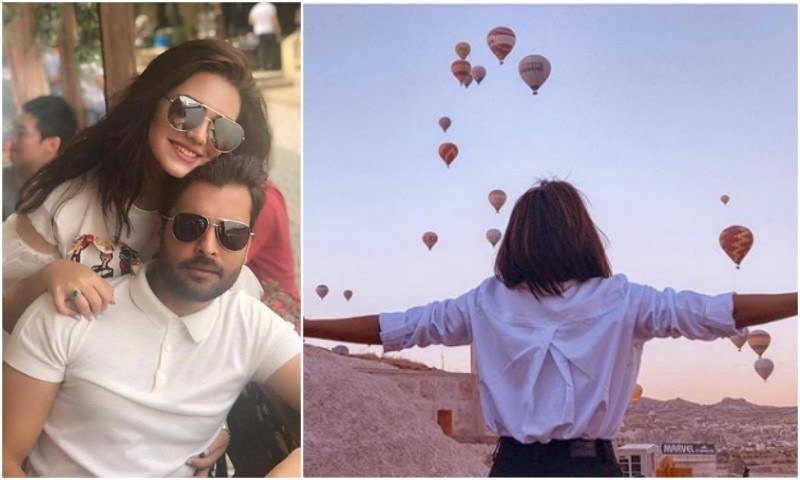 From Baku to Turkey to Balakot and Nepal, our favorite celebs are walking the globe

This year has been one of the most happening in terms of work for our beloved celebrities and the enteryainment industry. One project after another, be it television or film is coming our way. However, rather than feeling the burnt, a lot of our favorite celebs have flown off to destinations enjoying exotic vacations with family and friends.
While they give us major travel goals even if its October, HIP brings you a list of some of our favorite celebs who have been travelling and enjoying their time around the globe.
The handsome father Junaid Khan and his cutest son had some great time in Nepal!
Osman Khalid Butt was in relaxing mode before he started shooting for his upcoming Baaji! We are super excited for that!
Hina Altaf seemed to have the best time of her life at Baku, her smile pretty much showed how happy she was touring around.
Wohoo, be it a drama set or a vacation, Ayesha Omer never fails to impress us with her style, she is having a good time in London these days!
Nabeel Qureshi posed straight from the streets in Turkey and we wonder if the director is there for some location hunting.
Anoushay is out to explore the Northern areas of Pakistan and we are drooling over her winter look
Yasir Nawaz and Nida Yasir are on vacations too! We actually love these two posing!
Affan Waheed,one of the most handsome actors of the industry is having a good time in London!
Saba Faisal and Seemi Pasha too joined the vacationing gang and are enjoying together in America
Iqra Aziz took the Suno Chanda fever along on vacations!
Relaxing mode for Sumbul Iqbal!
Our favourite couple, Zara Noor Abbas and Asad Siddiqui are having some great moments together in Baku, and we so wanna visit this place ASAP!
Also read: Lamhe episode 05 review: Alina marries Hashir on a contract!
Minal Khan enjoys nature during her family vacations, isn't she lookign cute?
And so is Aiman!
Seems like Asim Azhar is having a good time too!
Javeria Abbasi and Anoushay Abbasi vacaying in London!
Where this lady is headed too? Any guesses?