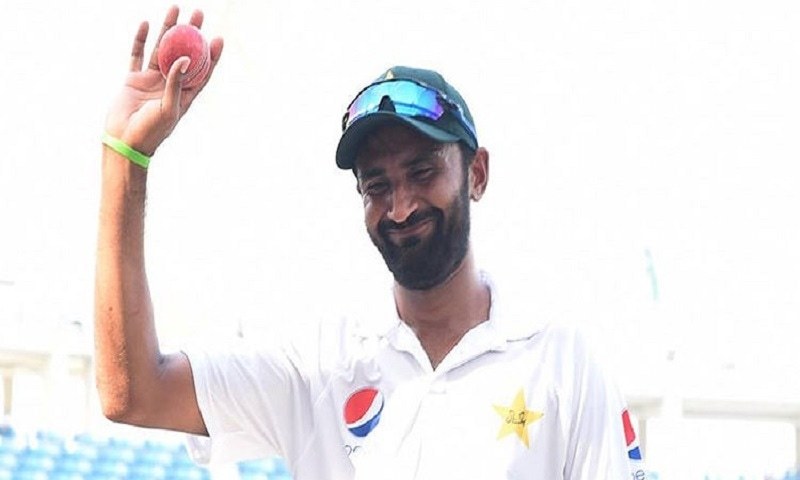 UAE was a fortress under Misbah. Sarfraz Ahmed lost there to Sri Lanka. A weak Sri Lanka at that. That is the perception, the bottom line which matters. But sometimes when looking at past events context is important. The idea of playing 3 pacers and a spinner. Essentially with no Mohammad Hafeez, Pakistan went in with just Yasir Shah. Sarfraz desperately scrambled to get spin overs in from Asad Shafiq and Harris Sohail. The result was 2-0, despite being in the game till the last day. Pakistan lost both tosses too.
Pakistan's coach, Micky Arthur later provided 1st hand opinion about this 'context'. His own experience of having coached Australia and South Africa where you attack with faster bowlers was the idea behind this change. It was about being aggressive and using reverse swing. One wondered why the senior players including captain Sarfraz didn't push harder. Was it perhaps due to lack of an option?
Harris Sohail makes his mark following the Misbah template
However, often in the UAE Pakistan have found a new hero in shape of a spinner. Danish Kaneria was banned before Pakistan started their new journey in a home away from home. We found the combination of Saeed Ajmal and Abdur Rehman. They ruled for a while. Then ICC thought it time to change rules of regarding suspect bowling action. Ajmal never recovered from being called. Rehman lost form. Pakistan found Zulfiqar Babar and Yasir Shah. And then age and lack of fitness caught up with Babar. And today we presented our latest spin sensation, Bilal Asif.
Like Yasir Shah, he had played ODI cricket before but was dropped after not making a huge impression. He returned to domestic cricket and worked on his game. While perhaps the batsmen were worried about countering Yasir, he was able to bulldoze his way to a six wicket on debut. Despite being 3 wickets down for not much, Pakistan held all the cards. Micky Arthur must be pleased that he let go of the 3+1 strategy.