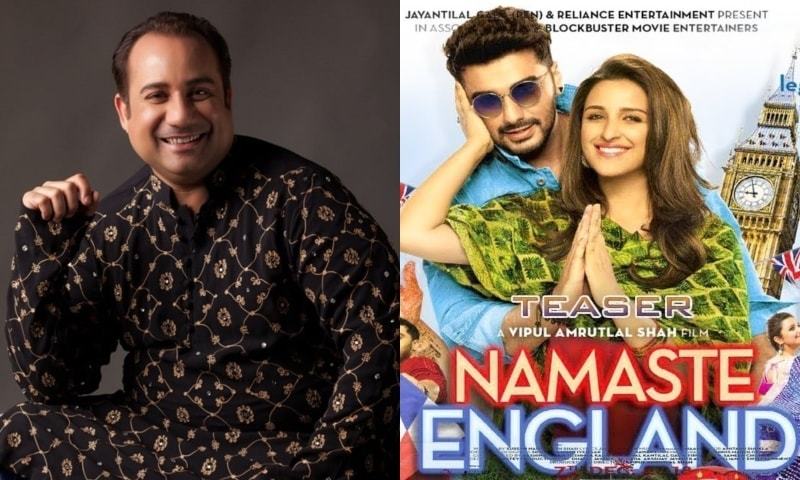 The music maestro has lended his vocals to Arjun Kapoor, Parineeti Chopra film Namaste England and it's sure to be a hit
Whenever we want to relax we always make sure we have a cup of tea in hand and a nice song to hear. And since we are a die hard fan of Rahat Fateh Ali Khan, there isn't a single track of his which we haven't heard and fallen in love with. This time, the maestro is back in Bollywood and lended his vocals to the Arjun Kapoor and Parineeti Chopra starrer Namaste England for the song Tu Meri Main Tera.
After giving one listen to this song, we easily understood why the Indian film industry loves him so much - anything sung in his voice is a immediate hit for sure and Bollywood knows it!
Composed by Mannan Shah and written by Javed Akhtar, the song is strong on both its lyrics as well as the music which easily grabs your attention. We would call it a soulful track that can be loved by all age groups.
Also Read: Rahat and Atif roped in for Namaste England's songs!
But what makes you fall in love with it is Rahat Fateh Ali Khan's magical voice. He captures the theme of the song so well in his voice that your heart feels for Arjun who is illegally travelling to England to be with Parineeti, his lost love
If we talk about our favorite from the song, well then it has to be the chorus which makes you want to close your eyes and move to the beat composed with beautiful blend of various sounds.
So it's an emotional track especially for those who are in search of their loved ones. We feel Rahat Fateh Ali Khan has another hit under his belt as the song has a very fresh feel to it and it is surely going to click with the listeners.
Earlier in an interview, Manan Shah had also said, "It's sheer pleasure to have recorded 'Tu Meri Main Tera' with Rahat sahab, I've always been a big fan of his voice, we have tried a unique style which Rahat sahab has also explored for the first time. He was excited about singing something so new and fresh."
Tu Meri Main Tera is surely on our repeat mode for the day, you also let us know your thoughts about the song in the comments below.