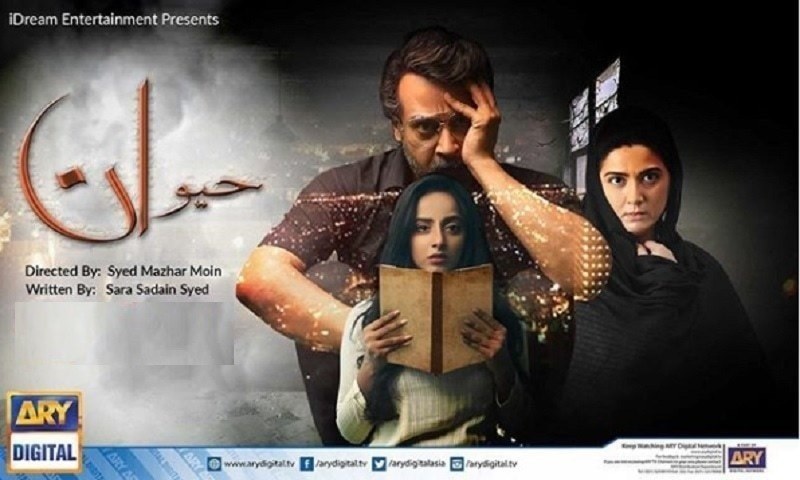 The drama could have been more impacting if it broke the silence & discussed the neglected victims of child sexual abuse
A tragedy happened that was luckily publicized and got enough attention worldwide and all of a sudden we had numerous drama serials made on that subject, one after another. After Meri Guriya, Muqabil, Darr Si Jati Hai Sila, and many more, we have yet another production company jumping on the bandwagon with a new TV series "Haiwaan" which is more or less along the same lines as previous ones. The teasers looked interesting and the hashtag of #mychildmyresponsibility promoted by the cast and crew had me intrigued enough to at least give it a shot.
Haiwaan is a story about two families who are neighbors and their children are best friends. Savera Nadeem is a widow who has two daughters Momina (Sanam Chaudhry) and Masooma (younger sister) while Hameed and his wife Amina (played by Faysal Qureshi and Ismat) are their neighbors who have three kids, two daughters and one son. Both families' daughters are best friends and hang out with each other all the time, specifically the younger ones Masooma and Jojo. Masooma spends a great amount of time at her friend's home even though her mother does object to it, albeit not as strictly as she should. Hameed seems like a decent man from the outside, but behind this façade lies a man who is an alcoholic who binge drinks every night. One day, Jojo, her mom and her sisters are out of town visiting family, Masooma drops by their home only to find a drunk Hameed. Hameed makes a few attempts to make her leave, but Masooma keeps on being insistent and in that moment Hameed lost his self-control and commits a heinous crime.
Masooma's mother worries about her daughter almost instantaneously, but Momina calms her down saying she will go look for her sister in about half an hour. Masooma's mom and sister did go out to get her from Jojo's home but it was too late and the vicious sin had already transpired. Hameed, in order to dissuade the suspicion from himself, ties Masooma and calmly opens his main door for Momina and her mom. He even has the audacity to ask them to search the house themselves, which they do, but of course Masooma is tied with her mouth gagged with a cloth preventing her to even call out to her mother.
The first two episodes established the basis of the story, while the third and fourth had nothing much to offer except for Momina and her mother looking for Masooma, and became a little redundant. The episode did however establish the fact the Masooma has died, and revealed that her mother being diagnosed with declarative memory dysfunction due to post traumatic stress disorder (PTSD) and Hameed is actually repentant.
I do want to reiterate the fact that we as audiences have had an overload of dramas with child sexual abuse as the theme. Now I understand it is an important topic to discuss and raise awareness about, but there are other forms of atrocities being committed against children as well such as child labor, physical violence, emotional abuse and trafficking that are just as significant. Why are the writers and producers not looking into those subjects? A powerful message can honestly be given with a few well written TV series, and sometimes an excess of dramas on a similar topic loses its impact.
There were some bloopers as well like Masooma was able to enter Jojo's house without any difficulty while her sister and mother had to bang on the door until Hameed came outside to open it! Acting wise, Faysal Qureshi is fantastic as Hameed, but the other actors unfortunately did not live up to my expectations, especially Sanam Chaudhry who looks artificial.
Sanam Chauhdry and Faysal Qureshi are busy shooting for their next drama 'Haiwaan'
It is yet to be seen how the hashtag #mychildmyresponsibilty will fit into the story, but up till now I don't think that Masooma's mother was negligent of her daughter's whereabouts. Perhaps, she should have been taught to not enter other people's houses when they are not home and introduced some limits and boundaries one must adhere to when visiting a friend or a family member. It is in fact a part of manners and stressed in Islam as well to not enter a house until the person inside gives you permission. Also, in my opinion, children should not be allowed to walk home alone to and from school without an adult parent or caretaker with them. Also, much emphasis should be given to the fact that any child, boy or girl, is and can become vulnerable to these.
Quite possibly this drama could have been a myth buster had a boy child been involved! It will not be false to say that abuse boys are neglected victims of child sexual abuse and that we as a society seldom talk about them. For now, we just need to wait and see how the writer does justice to the hashtag.