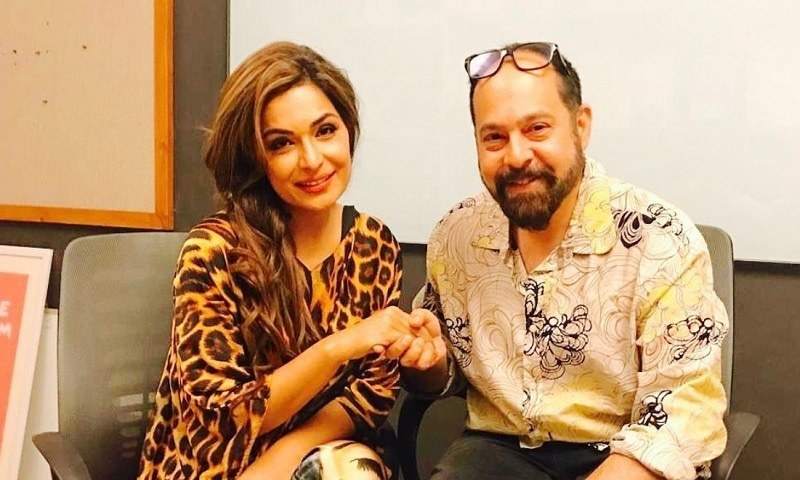 The aced director shared some insights on his directorial debut for silver screen and his experience with Meera
When Saqib Malik whom we had previously known for his out of the box music videos announced his directorial debut on silver screen, titled Baaji, the first question – amidst the excitement – that came to our mind was 'Why Meera Ji in the lead?'
Nonetheless, the movie went on floors, Saqib and the cast shared a few deets here and there and now the movie is almost 95% completed, scheduled to release in mid-2019.
We thought to get in touch with Saqib to know a little bit more about Baaji and more so about the starlet who is playing the 'Baaji' in the movie that reflects back on the olden days of Pakistani film industry.
"I kind of always wanted to cast Meera for this role; when I thought of this character she just fit it perfectly," said the director. While adding further, "Meera has an off-screen personality yes, but there's an on-screen persona as well and that is exactly what I needed for my lead character. We have tried to bring out that X-factor in Meera that was never utilized properly"
Meera to play the lead in Saqib Malik's debut film "Baaji"
But was it Meera in mind when he thought of the story, is Meera the inspiration for Baaji itself?
"I have been wanting to make a film for a very long time. So when I thought of this story I went to Irfan Ahmed Urfi, we sat together and jotted down our thoughts, this was the end result," he shared.
So how was it working like Meera, somebody who is accustomed to another style of filmmaking i.e. conventional techniques and old Lollywood cinema.
"Well, it had its own set of difficulties," he said with a laugh. "But let me tell you, the thing about Meera is that she has travelled abroad, worked in Bollywood so she has a kind of exposure that a lot of people don't have. And most importantly she's an open minded person who is keen to learn, and she picks up so quickly. A very quick learner," Saqib shared insight on the Baaji star.
"And the best thing about film-stars is that they have a certain aura and persona attached to them; they know silver screen better than anyone. Every time Meera would come on the frame and you would feel an aura around her, it's not something I see in many television stars to be honest," said the acclaimed director.
In addition to the 'Baaji' herself, Saqib considers himself "Blessed with the best cast."
"Aamina [Ilyas] is such a talented young girl, full of energy. I think it would be right to say she was born for this role," he said with a hint of excitement in his voice.
"There were many girls whom we considered for this role but many were reluctant to work opposite Meera, I don't know why, thankfully we found Aamina and she has been the best addition," he added.
"If you look at the guys, Osman [Khalid Butt] is another great actor, we have tried some new look on him and audience will love it, Ali Kazmi again, you have never seen Ali like this before, I can bet," he further revealed.
"Mohsin Abbas Haider took some huge risk for this character and I think he's an aspiration for many youngsters out there," Saqib said without revealing much of Mohsin's character.
However, making of Baaji came with its own fair share of obstacles, as for somebody as perfectionist as Saqib, the film had to say of his own self, his thought process and the execution was supposed to be nothing but reflection of Saqib's work on the silver screen.
"Nothing can prepare you for the challenge of filmmaking in life, it's like you dive into it holding your breath and you don't know how you will come out on the other end," said Saqib who took two years in the making of his debut movie.
"But let me tell you, it's not your typical commercial movie, yes it has songs, drama and dance but it's a movie that all kind of audiences can relate to," said Saqib. "The most sophisticated of audiences will find connect to it and the most hip kind of people would too. It's a movie for all sort of audiences," he revealed with confidence.
"I hope Baaji showcases the best of me as a filmmaker and a storyteller, as I think the film has an authentic voice, it's a culmination of everything I have done so far," said Saqib.
"It was difficult to execute but if you are able to tell a story and influence your audience in the short duration of movie, give them a wholesome experience then I think it serves the purpose well," said the director.
"Our movies these days are very much Bollywood inspired, but Baaji is very deep rooted in Pakistan, it's dynamics, movie industry and that golden era. It's like a tribute to the classical era of filmmaking," concluded Saqib.