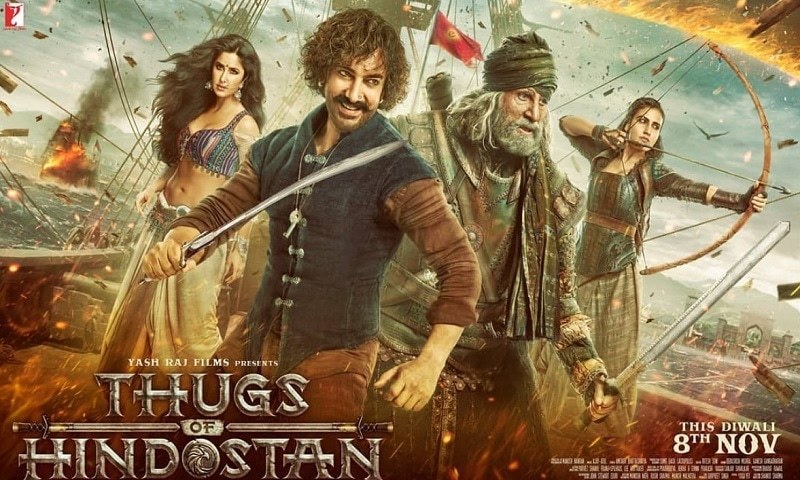 Starring Amir Khan and Amitabh Bachchan, the movie will hit as many as 120 screens across country with over 550 shows!

The much-hyped Bollywood film Thugs of Hindostan is all set to awestruck Pakistani viewers tomorrow, i.e. November 8, since it has been cleared for release by the Central Board of Film Certification in Pakistan. The film starring Bollywood biggies Amir Khan and Amitabh Bachchan will be hitting as many as 120 screens across the country, which is a huge number.
As per predictions of Pakistani distributors and cinema owners, the movie will be surpassing profits garnered by blockbusters Sultan and Sanju which earned a handsome business of Rs30 crore (approx.) and Rs37 crore (approx.) respectively in Pakistan.
Thugs of Hindostan, given its star-studded cast and their massive fan following, has also been allocated a massive number of 40 shows on opening Friday at Universal Cinemas Lahore. The cinema is known to be one of the highest grossing cinemas in Pakistan.
According to Entertainment.pk the movie has also been allotted a substantial 530 number of shows at the chain of Cinepax Cinemas, over the four day weekend. Seeing the trends, it is safe to assume that movie will be doing some record shattering business in the country and will live up to its hype cross-border hype.
The story of Thugs of Hindostan dates back to the era of pre-partition and caters both the Pakistani and Indian audiences alike. This action-adventure film is about a thug band that has the mission to free Indo-Pak subcontinent from British Raj.
Also Read: Amir Khan-Amitabh Bachchan Starrer Thugs Of Hindostan Will Release In Pakistan Next Week
Directed by Vijay Krishna Acharya, Thugs of Hindustan also stars Katrina Kaif and Fatima Sana Sheikh alongside Amitabh Bachchan and Amir Khan.