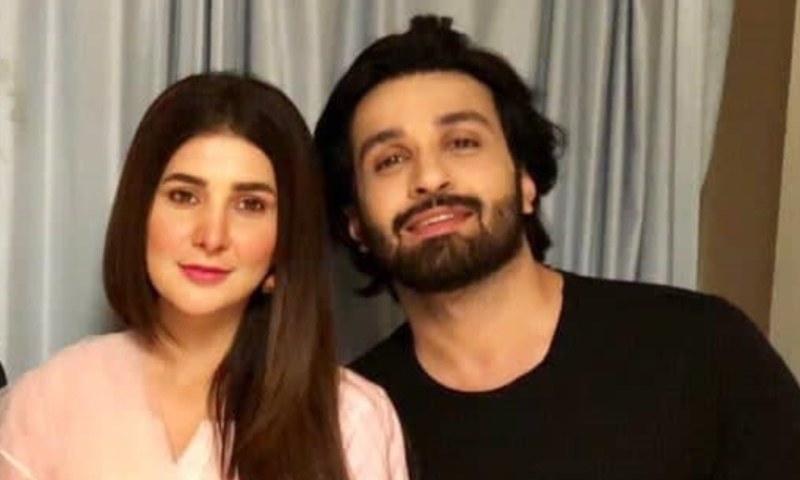 The duo is currently busy shooting for upcoming drama Qadam Qadam Ishq which will see Azfar playing a psychopath!
One of our hobby happens to be sitting down with a good cup of tea and switching on the TV to watch a nice play. Since we are currently enjoying watching Koi Chand Rakh and Aatish, we were super glad to see a picture of Azfar Rehman with Areeba Habib recently shooting for a new drama together!
Yes guys, according to the latest bit of news these two dynamic people are coming together in Qadam Qadam Ishq and with us always curious to know details of a project we got in touch with Azfar and below is what he shared with us.
Directed and produced by Kashif Saleem, the first thing we asked the much loved actor was about his character.
"I really liked the script as I have never played a character who is a psychopath," replied Azfar.
Read: Azfar Rehman Joins Mehwish Hayat For Wajahat Rauf's Web Series
Making us even more curious he further added, "He is some one who does not have a lot of shades, he thinks in a certain way. He is very moody and emotional, to the extent that he can be self destructive too."
Written by Adil Hafeez, we wanted to know why did Azfar choose this role as his fans are quite happy seeing him in romantic leads.
"He is a layered character, he is very different with family and when in love. So what made me do this role was the fact that I have never played someone who is so loud," he revealed.
Areeba made her debut in dramas with Koi Chand Rakh where she plays the self centred Nishaal, this will mark her second play. So how excited was Azfar to work with her?
"I am excited to work with Areeba as I have seen her modelling and her play too. So looking forward to it as it is a nice script and the way we are shooting it is quite filmy so I am sure everybody is going to like it," the actor answered.
Well we hope so too as the team does sound pleasing so we look forward to watching Qadam Qadam Ishq very soon.