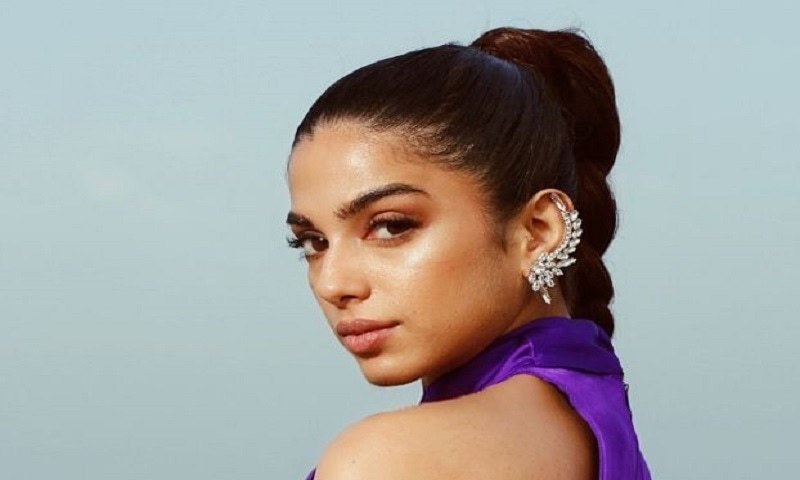 Donning violet-colored sweater, which later led to comparisons with Priyanka Chopra, Sonya Hussyn looked at ease. Perhaps it was the feel of cafe, or maybe it was simply because this wasn't a 'promotional session' on the eve of film release. There was no hustle of a pre-release media meet up. As we know, she has signed up for Sorry-A love Story and she was there to talk about this film and more.
Faysal Qureshi, Aamina Sheikh, Sonya Hussyn & Zahid Ahmed to star in upcoming film Sorry: A Love Story
We started with Azaadi. While, her performance was noted by many the film's box office didn't set the world alight. So now in hindsight, how would she rate the Azaadi experience?
"The fact is people have started offering me more mainstream film heroine roles. People appreciated my work. At the end of the day, the film's business is not something an artist should worry about. So with Azaadi, I had this unique new experience. For example, I had never danced or romanced in a film, and I worked with an actor, about whom I knew very little. I am glad I did it. Life is about experiencing new things and Azaadi was certainly a positive experience."
She is being offered a number of films. A simple search with her name and you'll get a bunch of blogs claiming that she has signed up for Lufangay with Sami Khan. I asked her if that is actually the case.
"Well, I am not sure why this Lufangay 'prospect' has become a confirmed news item. Yes, I have been offered this role, I love the story but I haven't signed on the dotted line. It's under discussion. Like there are other films like Punjab Nahi Jaungi 2, that are under discussion but that didn't come out."
So, I quickly popped in to get my breaking news.
Are you doing PNJ 2 or better yet, is there a PNJ 2 being planned, I asked in a hushed tone.
But she was coy with her response. "We'll see; let us see how things pan out. There is no point talking about things prematurely."
And with that rather levelheaded response, I lost my headline.
Back to Azaadi and Sorry-A Love Story. While, Azaadi was journey of her character, Sorry has an ensemble cast, how different would it be to play this part for her an actress?
"The thing is with Sorry, these 4 characters have their own journey. They have varied motivations, unique reasons and desires. So yes, I would say every character in the film is the focus."
And is this why you signed on for the film?
To be honest, when I was told that I have to play this character, I was reluctant to sign on. There were so many shades to this character, I was a little bit unsure if I could really be that person. But as a film maker, Sohail Javed believed that I could do it. He contacted me again after a while, we did reading sessions and I realized that I was being protective of my own past. Sometimes, there are feelings from our past we don't want to endure again. By not doing this role, I was trying to shield myself from going back to that zone. With this realization, I thought if I could relate to this character, perhaps a lot more people will do so too. This is why I signed to play Alia."
So, this film has deeply impactful characters. Something our audiences are not too accustomed too. It is a risk but a risk worth taking according to the diva.
"Our industry has made a lot of comedies so far. Our producers feel safe that way. But with Sorry-A Love Story, we are going in a new direction, taking a new path. It is a risk but it's a risk well worth taking. We want people to feel different emotions when they leave the cinema. I mean usually we see love stories turn into rom-coms. Sorry-A Love Story, isn't that kind of film. While there is song and dance; it's not a glittering stage, colors correction is not a tool to make the world look pretty. My character is dark and encounters real world problems. This is what the film is about."
This possibly isn't a question for the star of the film, but I asked it anyway. Will we see this emotionally charged film on Eid?
"Well I don't think so, because the Eid slots are already booked by other directors. So it would probably be a non Eid release."
This obviously is a relief. Having 3-4 big films releasing at the same time is not helping the industry. One hopes Sorry-A Love Story, follows the path of Teefa in Trouble.
If one has observed Sonya Hussyn's drama choices recently, they have been more socially relevant stories like Meri Guriya and Aisi Hai Tanhai. While with films she has gone for more commercial roles. Is this by design?
"Look films have to offer entertainment. The paying audiences was to be entertained. You can make a documentary about child abuse or a film for festival, but mainstream cinema has to be massy. There has to be songs and dance to make it entertaining. Having said that, still as an actress I want to do diverse roles. So with TV I try to select characters and stories which can help make a difference like Meri Guriya. It is a conscious choice. At a later stage, I may do art films. Ours is a new industry and we are building an audience slowly."
With Sorry-A Love Story, Sonya Hussyn goes in a new direction. Time shall tell, if the film proves to be Cake of 2019 (with a lot more commercial success, hopefully). Meanwhile, those who attended today's session with fret about the impending pre release media talk. Time to come up with new questions!