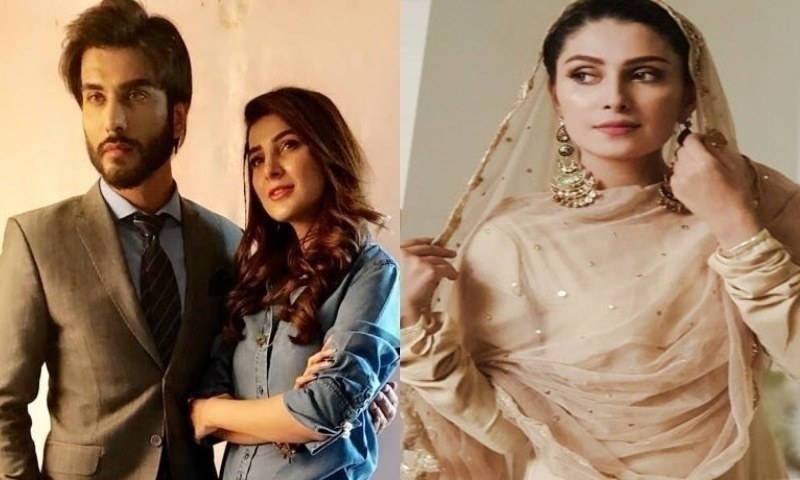 Our Thursday is never complete without having watched the latest episode of Koi Chand Rakh which has the gorgeous pair Imran Abbas and Ayeza Khan in the lead. Now where initially after a great start the play had begun to bore us, the story has now picked up pace and is keeping us quite engrossed. Last night's episode too was rather impressive to watch.
Director Siraj ul Haq focuses on the story and makes his actors perform to the best of their ability. A fine example of that would be Areeba Habib who was the weakest link in the play as this marked her debut but now we are glad to see her at par with the other cast members too and the credit for that goes to no one but the director.
So what happened in the latest episode of Koi Chand Rakh ? Well let us fill you in in case you missed it.
Read : Koi Chand Rakh Episode 12 Review: Distances About to Fade Between Rabail and Zain?
Zain (Imran Abbas) is developing a soft corner for Rabail (Ayeza Khan) especially after his father died but with Nishal (Areeba Habib) not willing to accept that she begins to feed lies in his head against Rabail which he begins to believe too.
Now one thing we are sure about is the fact that Zain is not a strong man as he allows the women in his life to manipulate him to their best ability. With Nishal having told him about Umair (Muneeb Butt) and adding the lie that it was Rabail who led him on, Zain is furious and tells Rabail to never meet Umair again.
But is he being loyal to his wife? No, not at all. He meets Nishal once again and shares his love for her while contemplating in his head who is right for him and who is wrong!
Zia on the other hand is sick of being led on by Nishal and decides to tell Rabail how the two people closest to her were taking her for a ride but with Zain coming in at the exact moment, that gets left behind. But will Zia give up so easily or will he tell Rabail the truth is what we look forward to finding out next week.
One thing which we would like to see more of is Umair but not in a sad state as Muneeb is a great actor and surely his character can do a lot more than just sit and mop around while fighting his addiction. So hoping to see more of Umair and Rabail getting a bit alert instead of being so innocent, we will definitely be watching the next episode on Thursday at 8 pm as Ayeza Khan and Imran Abbas are two actors whom we can never get enough of.