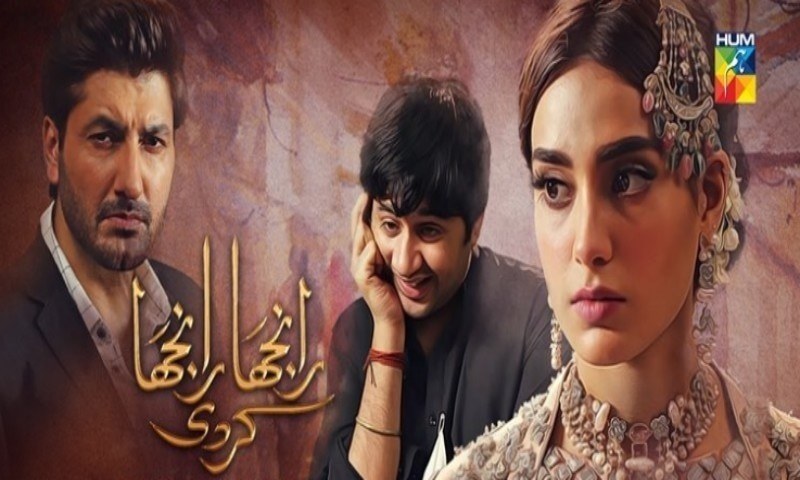 The latest offering by Hum TV, Ranjha Ranjha Kardi, has become an absolute addiction. Only two episodes old, this drama is definitely something, one needs to look out for. Defined by some really powerful performances, a strong script and a background score to give you goosebumps, Ranjha Rankha Kardi, is a drama, at par with the finest plays to have come out in the drama history of Pakistan or even the world over.
For now, we know, Noori (Iqra Aziz) is a rebel! Born into a family of sweepers, she is focused on building a life for herself and does so with the help of Amma Janataan in the village. Amma Janataan, an old widow, takes Noori under her wing, not only teaching her the Quran but also helping her study and appear for her board exams.
Noori is hungry, hungry for knowledge, hungry for respect and hungry to explore the world. She is naive but not afraid. Although bold and very strong, Noori's interest to explore the world, might just be her biggest weakness.
On the other hand we have Bhola (Imran Ashraf). Bhola, is a simple, retarded individual, with a love for the circus. He runs away from home whenever he finds the opportunity, only to be brought back home by the people who know him. Bhola belongs to a well off family, however, him being a retard, is a cause of concern for his family, especially his mother. Bhola is sweet, he's innocent and very simple.
Noori, who wants to earn a respectable living, is referred to a family by Amma Janataan and eager to start her new life, Noori heads to the city. There, she meets Sahir (Syed Jibran). Sahir is a shop owner in the city and the son of an Imam-e-Masjid. Noori is impressed by Sahir's father being an Imam-e-Masjid and the respect she thinks he must have earned.
On the other hand, Sahir, seems to have other plans for Noori. While Noori has impressed him entirely, he still does not know what to do about it. There is another person who might just not have good intentions for Noori and this is her father's friend (Noor-ul-Hassan).
Teasers of Ranjha Ranjha Kardi are intense!
Ranjha Ranjha Kardi has to be Iqra Aziz's finest performance so far. Iqra portrays Noori's hunger and her interest to explore the world to perfection. She's belligerent, she naive and Iqra Aziz plays Noori to perfection. Imran Ashraf as an actor, however, takes all the praise for Ranjha Ranjha Kardi. Even though the actor had two scenes in the second episode, Ashraf delivered a performance nothing short of perfect. He's absolutely amazing, impressive and absolutely outstanding as Bhola. Noor ul Hassan as the lecher is again perfect. Like a chameleon, the veteran actor has slipped in his role and fits it like a glove.
Kashif Nisar's direction and Faiza Iftikhar's story, both create a combustible combination. We have a winner on our hands guys, a drama that's bound to keep the interest quotient high! We're sure of it. So tune in to Ranjha Ranjha Kardi every Saturday at 8pm only on Hum TV. Don't miss it!