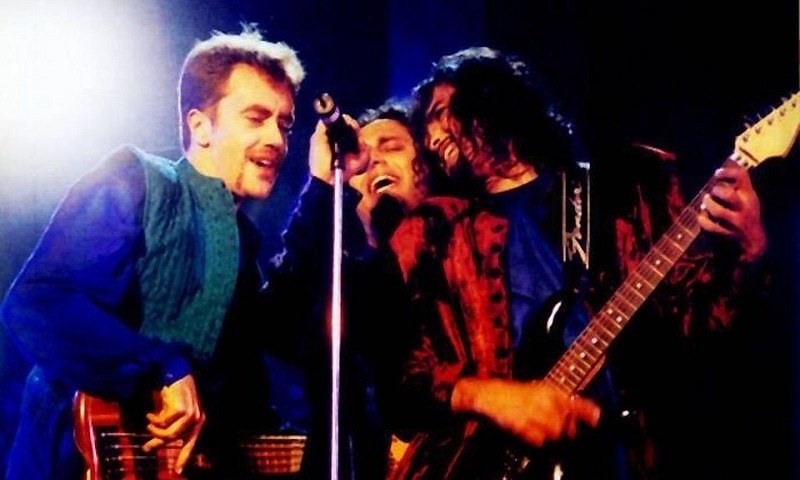 "This December, wait for amazing surprises," says Salman Ahmed, Junoon's lead guitarist

Given the circumstances in which Junoon, the band, broke down, it seemed impossible that they would ever reunite and give Pakistan, another musical experience like they did earlier. However, 13 years down the lane and the band members, our favorites, Ali Azmat, Salman Ahmed and Brian O' Connell worked it out and keeping all grudges aside, came back with a bang on Independence Day 2018.
Junoon is all set for its Sooper comeback!
Although Junoon's comeback song was a reprised version of their yesteryear's track Khudi, the band is now all set to deliver to its loyal fan following, an experience of a lifetime. Junoon is all set to come back and rock the concert culture in Pakistan, this December, with an exclusive Junoon concert.
Talking to HIP, Junoon's lead guitarist, Salman Ahmed confirmed that the band was set for its reunion concert on the 25th of December. The concert is slated to take place at the Arabian Sea Country Club on December 25th 2018.
Upon inquiring whether we'd be treated to revamped versions of old Junoon hits or if there are new songs in the pipeline, Salman Ahmed shared, "There will be plenty of surprises for all Junoonis this December, so stay tuned."
"Nothing great can be achieved without passion & enthusiasm . The Reunited Junoon is thrilled to be performing its 1st exclusive concert in Karachi on Dec 25, in over a decade. It promises to be a night of Jazba & Junoon for all