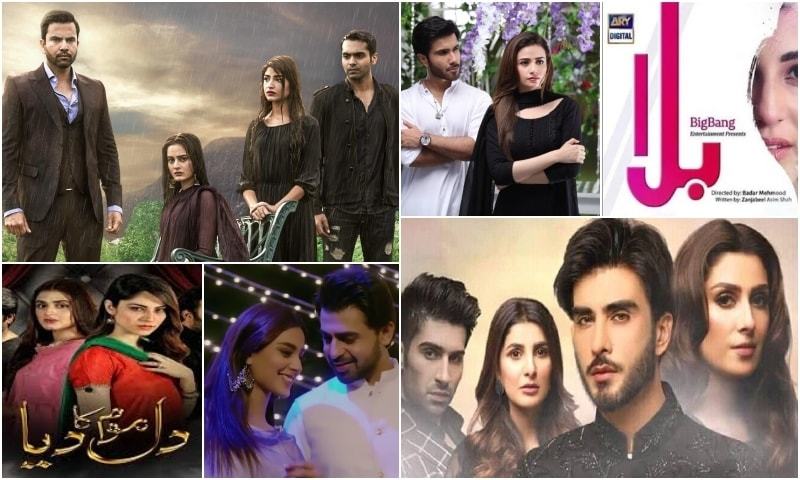 These are the top six plays that appealed most to the viewers

The year 2018 treated us with some of the most amazing dramas which proved to be entertaining and educating simultaneously. From subtle comedies to love stories to heart wrenching tales of hatred and revenge, we got to see a variety on our TV screens this year, leaving us in a difficult position to decide on the best.
Hence, we opted for online polling and left it on the audiences to decide, and these are the top six plays that appealed most to the viewers.
Dil Mom Ka Diya
As expected, the Neelam Muneer and Yasir Nawaz starrer tops the list. Ulfat and Afzal's story had become the talk of the town ever since the play started with a bang and kept the audiences hooked till the very last episode. An intense tale of arrogance, ego and heartbreak, Dil Mom Ka Diya was a once in a while kind of story, flawlessly scripted by Saira Raza and immaculately directed by Shahid Shahfat. Though all characters performed really well throughout, the dazzling beauty Neelam Munir as Ulfat stole the show with her outstanding acting.
Khaani
An inspiring tale of how an ordinary girl Sanam Khan challenges a politician's son Mir Hadi over unjust killing of her brother, Anjum Shehzad's directorial Khaani was one of the best experience this year. Both the titular actors, Sana Javed and Feroze Khan received overwhelming response from the viewers over their exceptional performances. As another plus, the OST of the drama in the mesmerizing vocals of Rahat Fateh Ali Khan was a cherry on the top.
Khaani Last Episode Review: Sentenced for life!
Ishq Tamasha
With an amazing cast of budding actors, great direction and plot twists, Ishq Tamasha was a complex story of five individuals and how their decisions had a deep impact on each other. Aiman Khan and Junaid Khan's on-screen chemistry was the highlight of the Danish Nawaz's directorial that kept us engrossed with some new happening in the story every week. All in all, it was a well-made play with all the ingredients of being a hit and that shows now, as the viewers have rated it among the top six most watched dramas of the year.
Suno Chanda
Ahson Talish's directorial Suno Chanda, a Ramzan special play, amassed its audiences through the cute love story between two cousins Jia and Arsal, played by Farhan Saeed and Iqra Aziz, who were poles apart in nature but were tied in a bond of Nikkah by their dying grandfather. A very subtle comedy, it made the viewers enjoy every bit of the amazing chemistry between Farhan and Iqra and proved to be a breakthrough for both the budding actors. From the educational point of view, the drama shed a dim light on the importance of consent in marriage.
Balaa
Currently on air, Ushna Shah and Bilal Abbas starrer, Balaa has managed to grasp the audience's attention with its unique storyline and stellar cast with the likes of Sajid Hassan and Samina Peerzada. A rare story of a limping girl Nigar, who is not a bechari at all, rather she can be crowned as the most manipulative of all female characters being aired this year. The evil Nigar is not rude, neither is she loud but she is very cunning in her own silent way. Self-centred as hell, the girl with a limp has no qualms about pushing anyone out of her way. Director Badar Mehmood has done justice to the complex story by Zanjabeel Shah with his immaculate direction, keeping the viewers engrossed in the story so far.
Koi Chand Rakh
A cliché story of love, deceit and revenge, Koi Chand Rakh is brilliantly directed by Siraj-ul-Haq. Starring Aiza Khan, Imran Abbas, Muneeb and Areeba Habib in key roles, the story is moving forward at a good pace. Nishal Niazi is jealous of her cousin Rabail as she was brought up by her parents after Rabail's parents passed away. Holding a grudge against Rabail in her heart since childhood, Nishal finally avenges Rabail by snatching her husband Zain. A heart wrenching story which is an emotional roller coaster ride, Koi Chand Rakh, has hit the viewers really hard. Its OST crooned by Rahat is also very touching and pleasing to the ears.
With these amazing dramas, we bid farewell to 2018 on a good note and are definitely looking forward to more captivating stories in the coming year. Happy New Year.