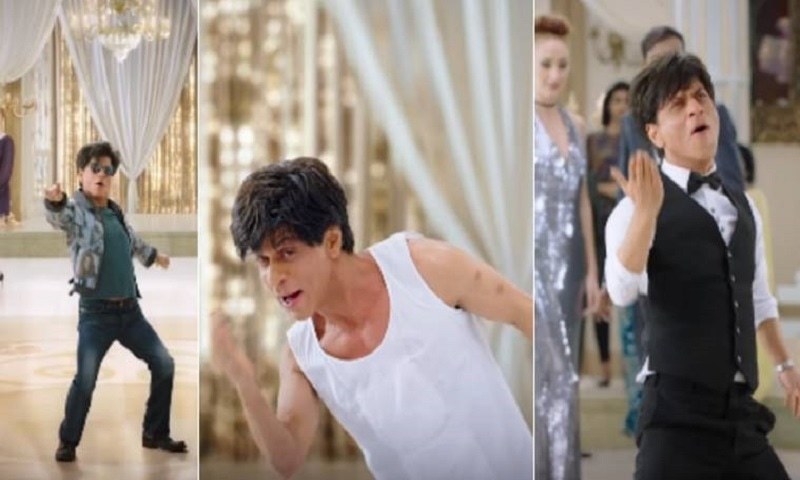 (Note: If you have been living under a rock, and have no idea what Zero is about; please stop reading: SPOILERS AHEAD!)
If you were born in the 80s or early 90s in Pakistan, you are a Shahrukh Khan fan. It's a given. Before you really understood what movies are, an older sister/cousin had coaxed you into believing that SRK is the best thing to happen since sliced beard. With more connectivity came, more understanding of the man, the star, the charmer. I have now interviewed a lot of Pakistani celebrities, watched and read hundreds of interviews. No one comes even close to offering the depth and the magnetism of SRK. There is Salman Khan, who found his mojo and stuck to it. There is Amir Khan, who keeps reminding us how great he is. And there is SRK, who shows vulnerability and often mocks his own work and abilities as an actor. He goes out of his comfort zone time and again to find a new niche. In all those films, he invests his heart and soul. I love Shahrukh Khan, cherish his honesty, I am in awe of the hunger of the man, it fascinates me how he tries to reinvent himself, and his devotion to film making is 2nd to none. Yet, it is not enough.
Zero, may be a ground breaking film in terms of the use of VFX. It is an extraordinary story of incomplete individuals. Individuals, who in their own space seem reasonable enough. Their convictions seem rational to some degree. Their motivations, somewhat understandable. It's is perhaps Katrina Kaif's best performance (thanks to the role she plays). Shahrukh Khan, immerses into the character of Bauua Singh and gives his heart and soul to it. As mentioned, not at any point does the VFX distract the audience. It perhaps has the song of the year in Mere Nam Tu. The way the song has been shot just makes you believe this absurd fantasy of it.
Director, Aanand L. Rai and writer Himanshu Sharma, start with the slightly bizarre, early. We meet Bauua Singh, dreaming about saving his maid from a sexual assault from his own father, who he calls Ashok. The maid, somehow knows what he is dreaming about. We just have to take it in. Bauua, acknowledges her and then drives her out, takes a selfie before his friend (Mohammed Zeeshan Ayyub) asks him to shower 'garebs' with money from the balcony as Bhabi's (Katrina Kaif) film is out. As we see in the trailer, Bauua follows the request to a tee. Later he dances to Husn Parcham as Babita Kumari (Katrina Kaif) shakes a leg and more, on screen. All slightly outlandish but still plausible.
HIP Reviews: What Will People Say looks at the horror of patriarchal mind-set
We see some of the excellent Tigmanshu Dhulia and Sheeba Chaddha as parents and a fair bit of Zeeshan Ayub. Bauua delivers emotional dialogues to his mother. Father, calls it Bollywood inspired love. Tigmanshu is both angry and worried about his son. This is in Meerut and it all connects. SRK's sharpest puns all land as intended. Like Tyrion Lannister, Bauua Singh is unabashedly himself. He has no fear of being obnoxious towards people as in his head, god has played a trick with him already. He has already paid his dues to it is time to have some fun. We accept Bauua for who he is.
With Afia, Anuska Sharma's portrayal of cerebral palsy is off putting to a degree. But the connect between Afia the globally famous space scientist and the unemployed dwarf is instantaneous. The SRK charm works here on Afia and the audience too. Afia, is so comfortable with him, she asks him to stay in the toilet as she answers nature's call. Mere Nam Tu, makes us believe in this dream of the two broken souls. But the film maker in an attempt of being self-aware, tell us how much that whole song set up had cost. The problem starts. Is it a dream fantasy where someone like Afia can fall for Bauua because love or a fairly self-aware film set in reality where Afia rationalizes her choice and justifies it to her parents, who obviously then agree in a minutes?
Bauua being Bauua, wants something else; the fairy that is Babita Kumari. A dance competition, judged by Salman Khan, takes Bauua to the world of Babita. However it is not what Bauua had imagined. Babita is not the fairy, he imagined her to be. The stars do not move at the flick of his finger like they used to in Meerut. He embarrasses himself at a big Bollywood party. But there is space for a Bauua in Babita's world. Two broken individuals, come together to identify each other's strengths and weaknesses. One could say Babita plays Katrina and not be wrong about it. Thanks to her, Bauua, slowly awakens from his ill-fated dream. He forces her to kick him out of her world. He is now remorseful. She is no longer in the business self-loathing. It's the most emotionally engaging part of the film. For a fantasy film, when the side show engulfs you more than the lead story, it is a problem.
Bauua, now flies to the US and lands outside this office where people are lining up to volunteer going to Mars without any guarantees of a return. Afia, returns with a trained chimp, a gun and their daughter (Bauua and hers). Oh also there is R. Madhavan in the mix as the fiancée. Now, Afia hates Bauua with a passion. Flicking stars in the sky may melt her heart that little bit it is certainly not enough. She toys with him, with zero gravity space, because she can. So, our hero now focuses his energies in becoming the Meerut to Mars man, just to make Afia love him again and stop him for taking this suicidal mission. Afia, doubles her almost married experience, uses her wheel chair to drive on the pristine roads in the US, and but it is too late as Bauua takes off. They do get a teary good bye. Professional dream over love, girl! Guess what, he returns after 15 years somewhere in China. You wonder what just happened.
Director, Aanand L. Rai and writer Himanshu Sharma offer us such rich subtext. You have to see the film closely to get it, at the same time you have to zoom out and look at the grander picture to accept the story. They ask you to take a leap of faith as large as the distance between Meerut and Mars. Unlike their older films, this one is not rooted anywhere. The absurdity of it all gets too much. It is an intelligent enough concept. But the incoherence of the story and the direction makes you feel, well lost. Anuska's portrayal of Afia certainly doesn't help.
There are a lot of things to like about Zero. VFX, takes an absolute lead amongst those. But it is a hard to digest film. The audacity of the whole project is such, one leaves the cinema scratching their head. People have mentioned Jagga Jasoos, in comparison. But that was supposed to be a dreamy version of reality. This film, at least initially is rooted in Meerut. It tries to create a balance between the real and the imaginary but then goes on to completely accomplish the absurd in a clumsy manner. That certainly wasn't enough for me.