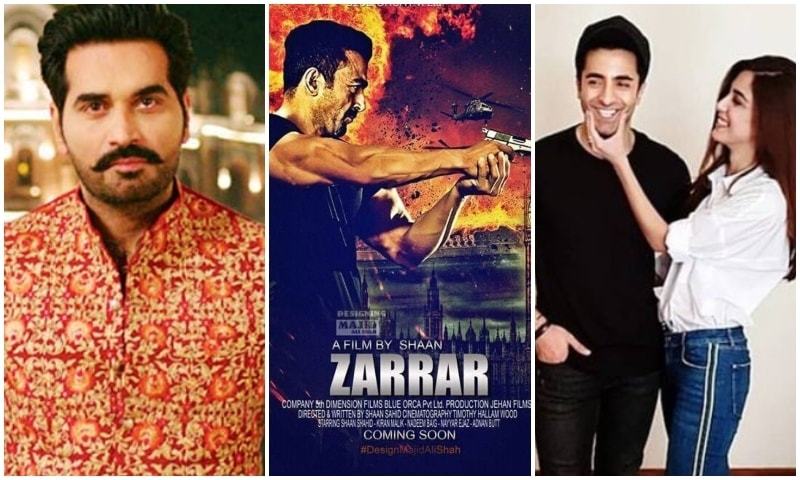 Humayun's Love You Jatta, Sheheryar Munawar's Paray Hut Love and Shaan Shahid's Zarrar will hit the big screen together

Once again, our cinema industry is up for clustered Eids in the coming year. 2019 is going to be big for Pakistani cinema as major films i.e. Fawad Khan starrer Maula Jatt, Humayun Saeed's Love You Jatta and Shaan Shahid's Zarrar will be releasing amongst a number of other aspiring films which are expected to do good on the box office next year. And while a number of these films, will not be Eid releases, we have three major films, namely Humayun's Love You Jatta, Sheheryar Munawar's Paray Hut Love and Shaan Shahid's Zarrar all set to release together on Eid ul Azha next year.
Is Pakistan In For Another Cluster Eid With 4 Major Releases?
What we don't understand is why our filmmakers do not think about the business their films will be doing in the long run. Definitely Eid footfall benefits a film's business in Pakistan and India but releasing major films together, especially in an industry like Pakistan's, which is currently struggling to stand up on its own feet and does not even have ample screens, is definitely suicide for a film. Usually we see major films releasing together on Eids in Pakistan and then begins a war of screen allotments. And if that settles down, (there's always a person losing the battle) the film's definitely eat out each other's business.
In 2018, three major films, i.e. Load Wedding , Parwaaz Hai Junoon and Jawani Phir Nahi Ani 2 released together on Eid. We evidently saw the screen divide amongst the three films and Load Wedding was seen bidding farewell to cinemas earlier than JPNA2 and Parwaaz, even though it too had star power, great content and high production values. All three films received critical acclaim, but there was a huge difference in the box office figures for all three. Had Load Wedding, Parwaaz Hai Junoon and Jawani Phir Nahi Ani 2 released at different time and not on Eid, they would have definitely done better as stand alone films. Teefa In Trouble starring Ali Zafar, is a good example. The film was not an Eid release but managed to do great on the box office.
Humayun Saeed has a strong pull on cinema in Pakistan. Having delivered three back to back hit films, Humayun Saeed is the star and of course it can be safely said that people would definitely prefer Humayun Saeed's film over any other, any day. That stated, Sheheryar Munawar and Maya Ali starrer Paray Hut Love might offer a refreshing story in itself, but as we believe, releasing it alongside Love You Jatta, could be suicide. Shaan Shahid has a mass following in Pakistan. People love Shaan and his film Zarrar, an action thriller, will definitely appeal to certain masses. However, his last film Arth- The Destination trumped badly on box office and this might have created a ripple on the box office that could affect Zarrar as well.
What we don't understand is the logic of Pakistani filmmakers bringing the best of all Pakistani films on Eid and leaving rest of the year dry. If your product is good enough, it can do amazing as a stand alone release as well. Why place all our eggs in the same basket and then complain about the industry not doing a good job overall?