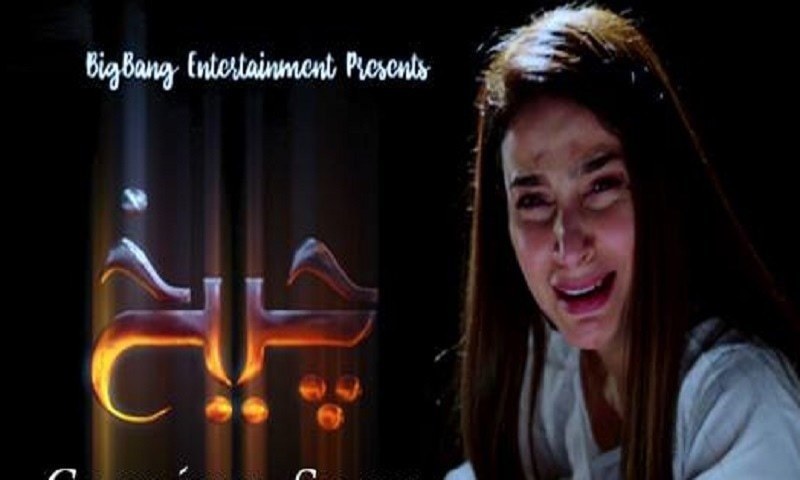 The makers have promised to depict the message of not suffering in silence through the intense story
The much-awaited drama serial Cheekh, bringing back the versatile Saba Qamar on screen, started with a bang this week. The makers have promised to depict the message of not suffering in silence through the intense story but what the actual story is about is not yet clear. The first episode was very light hearted and a perfect introduction to the star-studded cast where we were introduced to almost all characters in the play. Nayab, Mannat & Haya are best friends. Haya has three brothers Yawar (Aijaz Aslam), Shayan (Emaad Irfani) & Wajih (Bilal Abbas). Yawar is married to Shehwar (Maira Khan) & Shayan is married to Mannat (Saba Qamar). So Haya & Mannat are Nand Bhabi as well.
Nayab (Ushna Shah) belongs to a lower middle class family and her father Ramzan (Noor-ul-Hassan) remarried another woman after her mother passed away. Nayab's step mother is greedy in nature and is a typical step mother. She intends to get Nayab married off to a wealthy man who can in the long run support Nayab's family as well.
For now, the drama seemed to be a sigh of relief in the face of all melodrama especially the scenes between Haya, Mannat & Nayab were very refreshing and pleasant. Mannat is a very happy go-lucky girl who believes in spreading happiness all around. Knowing the circumstances of Nayab's relations with her step mother, Mannat takes care of Nayab like her own sister and goes the extra way to keep her step mother happy so that she doesn't mistreat Nayab much and let her go out with her friends. She literally gifted a brand new phone to Nayab's mother so that she lets her attend Haya's engagement ceremony. Mannat is also making all efforts to get her brother in law Wajih and Nayab married so that she can drag her friend out of the hardships of her life.
Bilal Abbas plays the villain in "Cheekh"
This episode revolved around Haya's engagement and dholki, from the preparations to the actual event, giving us an insight into her family which apparently seemed to be very warm and liberal. While everyone was enjoying the event, Nayab was very disturbed mentally because the same day her father had lost his job and presented a proposal of a widowed rich man to her, who was willing to give Nayab's family a hefty amount of 20 lakh rupees. With her father's words constantly echoing in her mind, Nayab was distracted and went inside the house to distance herself from the crowd.
One of Wajih's friend who was shown to be drunk was also sent inside the house a little before Nayab because Wajih was scared that Yawar might see him & he'll get upset. Yawar was also shown to be going inside of the house as well & a few moments later there was a sudden scream and Nayab fell off the first floor of the house.
The first episode ended on a very mysterious note. Did someone push Nayab? Or did she jump off to save herself from Yawar or that drunk friend of Wajih? What actually happened to Nayab is yet to be revealed and that is what the upcoming episodes will revolve around.
All in all, it was a very decent episode and the characters were introduced smoothly. Saba Qamar was amazing as always and she definitely stole the show with her ace-acting skills as the optimistic Mannat who despite living away from her husband was contented with her life. Bilal Abbas is handsome and dapper as Wajih but there are layers to his character that we're eager to see in the future. The rest of the cast also performed well so far. We have high hopes with the cast and director Badar Mehmood and we assume Cheekh to become one of the block busters this year due to its star-studded cast and engaging storyline.