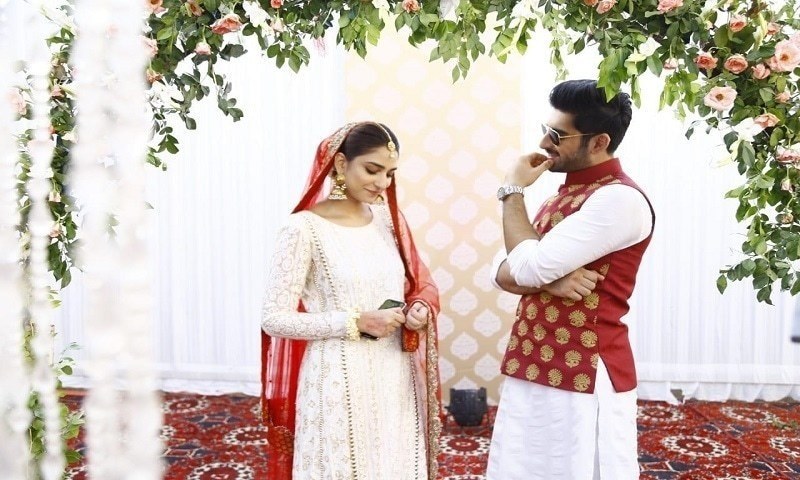 Where we like the concept behind the play we feel a limitation should be followed on showing physical abuse on screen.
This year we are excited to see so many plays go on air as watching dramas is our favourite past time so with us glued daily to our TV screens last week saw the beginning of Kaisa Hai Naseeban which has Muneeb Butt and Ramsha Khan in the lead.
Ramsha plays a very docile girl called Mariam who is married to the aggressive Ahmad. On its 4th episode now, one thing which we did not like last night was the fact that after every few scenes the girl was receiving a slap as we feel that once was quite enough as the way that Ahmad speaks is enough for us to know that he is not a loving husband.
Written by Samina Ijaz, we do in fact like her thought process as she wants to make people aware that despite being one's family it is of utmost importance to do a thorough check before saying yes especially if your daughter is to go abroad. However, what we do not understand is that why is there the need to show a girl being beaten up so often in an episode?
So besides Mariam getting slapped unnecessarily, let us fill you in with all that took place in the double episode last night in case you missed it.
Read : Kaisa Hai Naseeban Episode 1 In Review: All That Glitters Is Not Gold
Ahmad (Muneeb Butt) is all set to start a business and is super happy so much so that he actually speaks nicely to Mariam and even gets her a present which her sister in law takes away much to our annoyance. With her mother in law (Uzma Gillani) making sure that the married couple are never happy together we see her continuing to fill Mariam's head against going out alone with Ahmad or making him spend too much money on herself.
With the money taken away by Ahmad's friend who vanishes over night, he is now stuck and has to repay a man who too had invested with him. So a very worried Ahmad takes his anger out on Mariam who is trying to calm him down.
So with slaps and a shove, Ahmad decides to sell her jewellery but since that is not enough he looks for a job but finds out that a female vacancy is available and makes Mariam work.
Yes guys so now the innocent Mariam is working as a waitress because her husband has to give money back. With tears in her eyes, she tries to call her parents with whom she still has not spoken ever since she came to Malaysia but with Ahmad seeing her with a phone all hell is about to break loose.
Now where so far we have had enough of Mariam crying and facing abuse it is the entry of Farhan Malhi which has made us want to see the drama next week as we have a feeling that he will save Mariam since he is in love with Ahmad's sister and we are sure that once part of the family he will expose them too.
So with a nice performance by all we only hope that the coming episodes will show less of physical abuse and focus more on moving the story ahead.With us not ready to give up on Kaisa Hai Naseeban yet we will be watching it next Wednesday as well at 8 pm only on ARY Digital.