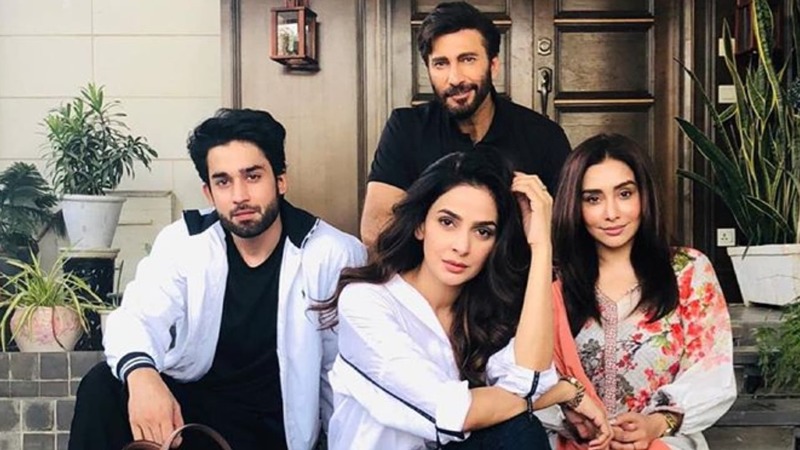 We are all eyes for TV projects that attempt to break away from clichéd narratives and characters and bring something unique to the table. The most recent addition to the list is Saba Qamar and Bilal Abbas starrer Cheekh that has us glued to our TV screens every Saturday Night.
Three episodes down, the story is moving at a good pace keeping the mystery of Nayab's fall from the roof-top at Yawar's house still under multiple wraps. Though it has now been clearly indicated by the police that there was a rape attempt on Nayab, whether she fell on her own or some one pushed her is still unknown. Confusing the viewers with hints & clues, the actual suspect has also not been unveiled, leaving us suspecting at least four characters: Wajih, Shariq, Yawar & the driver.
Nayab on her death bed revealed a significant clue to resolve the mystery, saying that 'Mannat Say Kahiye Ga Raja Bherya Hy'. The word Raja is casually used between Shariq and Wajih while Mannat also called Wajih 'Raja' in a funny way in the first episode teasing him with Nayab saying 'Raja Ki Aayegi Baraat' . Moreover, Mannat's last word before was also Wajih but her expressions were really confusing.
Also the conversation between Yawar & Wajih, while Yawar was stopping him to go & see Nayab, was very heartfelt and deep. It showed that Yawar is either the eye witness or has some hint about the real culprit. These scenes strongly indicated over Wajih being the actual predator. But then in another scene, Shariq was shown saying 'Wajih mjhy andar bhej k tum nay ghalti kardi'. It could be Shariq as well or may be Shariq witnessed the incident as he was sent inside the house during the same course of time. It could be Yawar too because the way he is trying to hide everything associated to Nayab like her jhumkas, her phone, depicts he is somehow or the other involved in the mysterious case.
Right now, it seems that the drama has been very intelligently woven and because it's so well-directed it has already become the talk of the town as people are discussing who the real culprit can be. All characters have delivered good performances but Saba Qamar as Mannat and Aijaz Aslam as Yawar have outdone themselves and clearly stand out from the other actors. Nayer Ejaz as Amir, the police inspector, has also played his role really well making it clear that he is there to accomplish his job and will not e brushed-away with bribe.
We feel this Big Bang production, will turn out to be one of most memorable and record-breaking plays of the year.