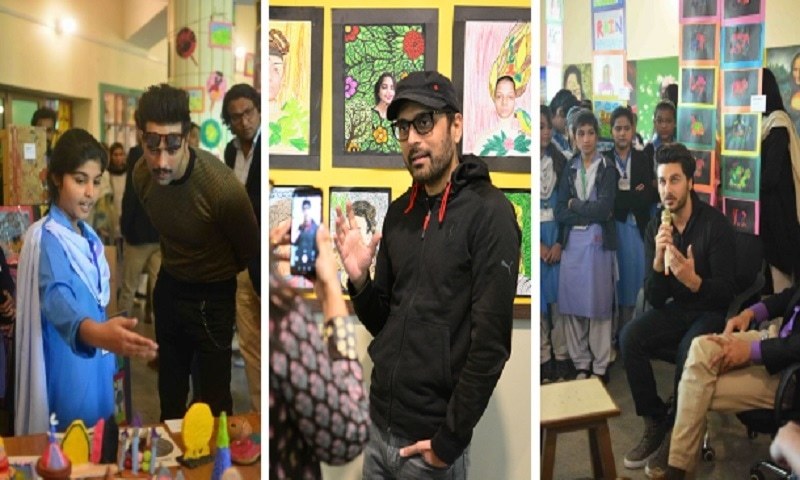 Apart from the display, the show included a Creative's' Roundtable discussing "The role of the arts in girls' education

Zindagi Trust was established by Shehzad Roy in 2002 with the aim to improve the standard of education for the average Pakistani. Their line of work includes rehabilitation of government and introducing the same kind of education system available for students of private schools. Other than that, they aim to educate the working children and persuade the government to improve the education policies.
Recently, they announced to hold the annual art exhibition in their newly adopted Khatoon-e-Pakistan Government Girls School. The exhibition was launched on 2nd Feb with the event, "Main Bhi Artist Hoon". The "Power of Art" exhibition featured a display of artwork done by the government schools' students. The students' artwork was interactive and highlighted social issues of our society. The exhibition was attended by many artists, influencers and celebrities including Ahsan Khan, Fahad Mustafa, Abdullah Sultan and Bilal Maqsood.
UNODC appoints Shehzad Roy as National Goodwill Ambassador
Apart from the artwork display, the show included a Creative's' Roundtable discussing "The role of the arts in girls' education". The outstanding panellists included Faraz Maqsood Hamidi, Anam Shakil Khan, Natasha Khalid, Tazeen Hussain, Zain Mustafa and Summaiya Jillani. They discussed the contribution of female artists in the art world and stereotypes linked with it. Later, the singer and Zindagi Trust founder, Shehzad Roy, addressed the attendees of the exhibition and said,
"It is so humbling to see these young girls create such beautiful and creative art. For me it reinforces the importance of art in schools - not only does it ignite creative thinking but also positively impacts one's self esteem and teaches children how to express themselves."
The students of the government schools participating in this exhibition have proved that with a little effort and attention, their talents can be enhanced and they can achieve anything.The exhibition is ongoing and will run till 15th Feb.