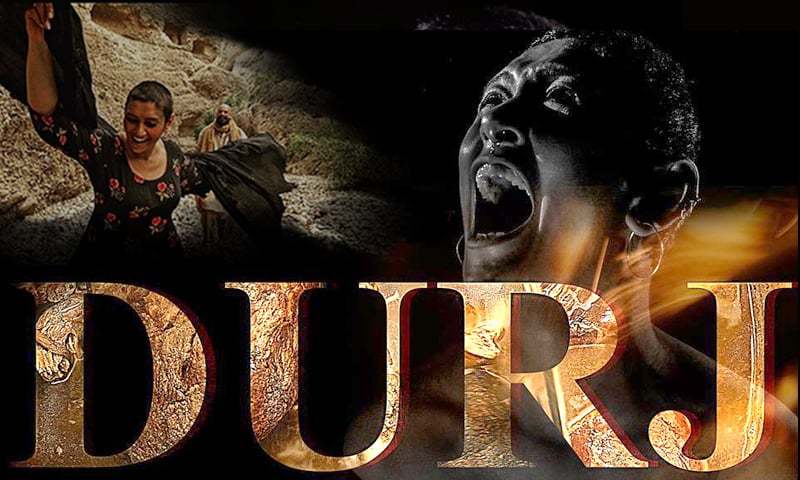 I wouldn't have pulled off such a complex character without Shamoon's manic vision and trust in me.

Creating a niche in the industry where millions are silenced and shunned every day is hard. Amongst all the leading actresses today, Sherry Shah has carved out a space separate and unattainable for the rest. She is one of the Pakistan's finest, not undermining any of our other actresses. Shah has an unparalleled reputation which she guardedly maintains and upholds. There are depths to her personality that hasn't been captured yet on camera. The way, Sherry dishes her work is delicious, and yet so abundant in intellectual nutrition. Her mantras are real, honest, and inspiring to say the least.
In a candid conversation with HIP, the talented actress spoke about her upcoming film Durj, her career choices and her journey so far.
HIP: So you have finally headed to Lollywood, since your debut film 'Tere Bin Jiya Na Jaye'. Why did you wait for such long?
Sherry Shah: I went with the flow and did work which I was offered. However, I am pleased about the fact; I am headed to films again. Besides acting in Durj, I thoroughly enjoyed producing a film for the first time.
HIP: Congratulations on the response to your role in Durj. How were you approached for this role?
SS: Thank you! I wasn't really approached for this role as such. Shamoon and I created this character during the initial process of the film.
HIP: Tell us about your character in the film and the kind of research involved in playing her on screen.
SS: We did a lot of preparation and research work in order to get it right. It wasn't just looking evil on screen; we worked on the small peculiarities of the character to get into its psyche. I was fortunate enough to have Shamoon's support all through the film.
HIP:You shot at actual locations. How was the experience like?
SS: The experience of shooting was an uphill task. Our biggest challenge was to shoot at actual locations and sustain in those circumstances. It had its own set of challenges, but looking back it was a lot of fun. It's great to see that all our hard work has beautifully translated on screen.
HIP: Shamoon Abbasi has mentioned several times in his interviews that no other actress other than you would have done justice to the part. Huge compliment… I must say?
SS: I am really thankful to Shamoon for his trust and confidence in me, that I could be able to pull of such a complex character.
HIP:Do you think it's your USP that you don't want to look always dolled up on-screen?
SS: I have done dolled up characters in my career earlier. Over the passage of time I have realized that it's important to cater to all sections of the audiences. Actors should have the tendency of doing realistic characters that shouldn't look out of place at the same time.
HIP:How was the experience of working with Shamoon as a director? How did it felt to be the leading lady of an antagonist?
SS: I've always enjoyed working with Shamoon Abbasi. I admire his manic vision with which he approaches things in a unique manner. He pushes the envelope unlike others; his unparalleled work ethic puts him in a class of his own. It wasn't a cakewalk for me to play the leading lady, it was challenging, but memorable.
HIP: With so many Pakistani films releasing this year, what according to you is the strength of Durj?
SS: The major strength of Durj is the fact that Lollywood hasn't explored this genre before. On the contrary the film doesn't revolve around cannibalism entirely; it has different tracks which unanimously connect into one. We are very overwhelmed with the amazing response from the trailer we've received. I am sure the sheer hard work and dedication of our entire team won't go unnoticed.
HIP: How important is box office success for you?
SS: There are many brilliant films in terms of cinematic brilliance which don't get much recognition at the ticket window. I believe it's important to entertain the audience, at the same time conveying them your message that leaves a lasting impression.
Second teaser of Durj Pakistan's first thriller is intriguing!
HIP: You have done television, modeling and films.What was more difficult?
SS: I didn't find any medium particularly difficult. One can achieve any milestone with persistence, effort and dedication.
HIP: Let's do a SWOT analysis on you. How would you rate your strengths, weaknesses, opportunities and threats?
SS: Strength: Organizing Weakness: Compulsive Eating Opportunities: Never give up on good ideas Threats: Disloyalty
HIP: So what's in the store for 2019?
SS: I am really looking forward to Durj. The film is important to me on various accounts. I have many other projects as well, at this point of time I am not allowed to reveal much.
Quickes!
A director you would love to work with?
SS: Peter Jackson
An actor you would love to work with?
SS: Jake Gyllenhaal
Your style statement?
SS: Classy & Chic
Diamonds or gold?
SS: Diamonds
Your Biggest Fear?
SS: Needles
Three things that you don't leave home without?
SS: Cellphone, wrist-watch and money
Three things always available in your hand bag?
SS: Perfume, pen and chewing gums
Three things about you no one would guess?
SS: Firstly; I don't sleep much. Secondly; I can watch films from hours to end. Thirdly; I love Ludo.
Love, loyalty or money?
SS: Loyalty
Recent movie you really liked?
SS: The Ted Bundy Tapes on Netflix