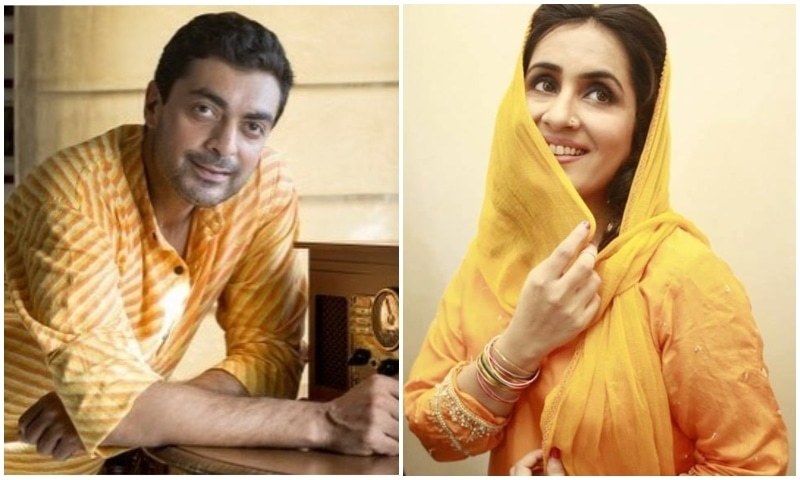 Blue Eye Entertainment's mega serial "Saiban" is hot to trot with a bewitching couple of Sabreen Hisbani and Alyy Khan as a lead pair under the direction of Sami Sani via GEO entertainment.
As per the teaser, the story revolves around the happy family of Sabreen and Alyy with three of their children but a car accident of Alyy seems to spin-off all the gaiety of the family. Saiban is a tale of an enigma that woman goes through if her husband passes away. It's indeed a great initiative to set out the slog and efforts that a single parent makes.
A cousin of prestigious preacher Junaid Jamshed; Alyy Khan is one of those top-notch actors who has also worked across the border with Star Plus and Zee Tv, and starrer in a number of international projects like Don 2, Traitor and A Mighty Heart. Alyy is known for his exceptional acting skill and his first local project was Saat Pardon Mai accompanied by Mikaal Zulfiqar and Sohai Ali Abroo on Hum TV.
As her beautiful sister Sanam Baloch, Sabreen Hisbani is a fine actor who has proven her mettle with different projects like Kitni Girhe Baqi Hai, Aunn Zara, LAA, Parchayee and Muje Kuch Kehna Hai. She has also been recognized by Pakistani Media Awards and awarded with best supporting actress in Aunn Zara.
An internationally acclaimed actor, Alyy Khan with an experienced actress, Sabreen Hibani, Saiban is definitely going to attract the audience with some strong performances on board.
Thanks to Blue Eye Entertainment for bringing this delicate issue of society to light. We wish the whole team a very good luck and hope that this serial would make a difference in illuminating the world of bleak bewilderment where women suffer in any case and role.
Alyy Khan nominated for best actor at the Berlin Film Festival