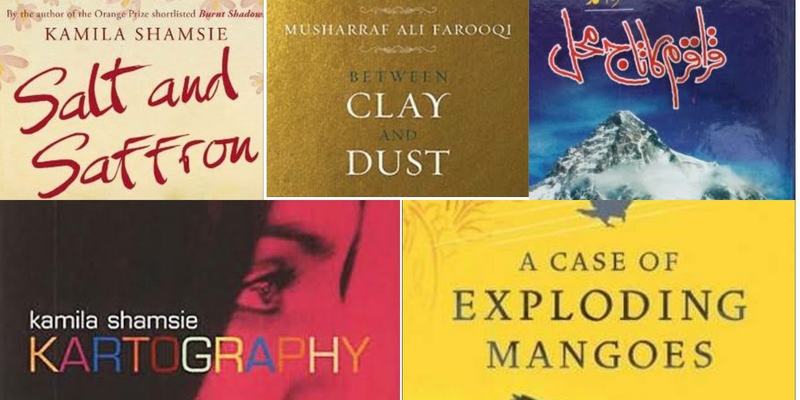 A good treat for a book-a-holic this season, get your hands on these books, all by Pakistani Authors.
After a great decline of Pakistani literature, some new writers have finally come forward to save the ship with some fascinating stuff to revive the old richness of the literature. People are actually changing their minds after giving some Pakistani books a try. Five of those must-read Pakistani books are listed below;
Between Clay and Dust by Musharraf Ali Farooqi
Have you ever read something that is ambiguous, yet incredible?
"Between clay and dust" is a kind of book which will make you feel ambiguous, because it's a story of an old ruined city, totally different from our today's life, but at the same time it won't fail to give those incredible feelings when you'll find it relatable with every aspect of your life. It's a story of a wrestler and a courtesan (tawaif) which is a rare combination to find somewhere to read. The story elegantly portrays the intricate emotions that a human goes through between the fame and fall, respect and reproach and life and death.
It's a captivating page-turner!
Salt and Saffron by Kamila Shamsie
A light story, full of humor is a good addition to the literature. A girl named Aliya, a great storyteller and a Dard-e-Dil granddaughter, is our narrator and a tour guide through the intricacies of the family tree, lore and history, providing the readers with some new chapters of her own. The story starts when Aliya was on her way to Karachi after completing her graduation from American university. She stops over to visit her cousin in London and meet an American Pakistani, Khaleel aka Cal, on the plane and feels attracted towards him but later she gets to know that he belongs to a lower-class family and suddenly an invincible switch in her thoughts would leave you with giggles in the wake of those nude feelings that every human goes through, but never speaks of.
An elegant and a witty novel filled with cultural diversity is a good book to have as next.
Karakoram ka Tajmahal by Nimra Ahmed
This book is phenomenal!
From the story line to the characterization, everything was just up to the mark. This is a love story of two mountain climbers, Afaq Arsalan and Pareeshe, gracefully portraying the northern part of Pakistan. The novel is full of adventure and suspense, so much so that it wouldn't let you sleep until you finish it. This book has everything that one good book could have. Emotion, relations, life, death, adventure, loss, passion, love, courage, craze, excitement, grief and so much more which could only be felt and not put across.
Be cautious, it's too addictive that you can't put it down once you start reading it.
10 quotes from our favorite Pakistani book
A Case of Exploding Mangoes by Mohammad Hanif
The story is based on the assumptions about the plane crash of Pakistan's former president, General Muhammad Zia-ul-Haq. Contrary to expectations, this book turned out as one of the most unpredictable books. It's not a monotonous historical story as it seems through the story line. In fact, it's one the most interesting books I've ever read, full of humor and facts. It literally made me believe every single word, I don't know whether it was the characters that made me so involved or they were the facts that Hanif has summed up.
Give it a shot and thank us later!
Kartography by kamila Shamsie
Kartography is a love story that revolves around Raheen and Karim. A passionate love interrupted by the past relations and engagements between the families of the two. The family dynamics reveal the most shocking and abhorrent secret to Karim that made him judgmental towards Raheen when she was unaware of the facts Karim knew.
Raheen and Karim were together since their childhood. The unbreakable bond was then destroyed but Raheen was not able to overcome the break-up, whereas, Karim being a man of principles was determined to have only black and white in his life, while the grey was still their dusted with his inner conflicts.
This sentimental book is one of its kind as it's not just intriguing but thought provoking too. It explains the magic of catharsis in the form of forgiveness, a beauty of connections and a power of acceptance.
Happy reading!